TechExec: Bjoern Freter, CEO at sum.cumo
February 6, 2021 George Hanks
Our latest TechExec features Bjoern Freter, CEO at sum.cumo. Speaking with George Hanks, a Manager at Oxbow Partners, Bjoern discusses sum.cumo's 'full-service' approach to digital transformation within P&C insurance.
George: Can you tell us a little bit more about sum.cumo for those that do not know you?
Bjoern: Firstly, it's worth noting that sum.cumo works across two industries – insurance and lotteries. I'll focus on the insurance part of our business for fairly obvious reasons!
We set up sum.cumo in 2010 with the ambition of helping clients digitise their business models. We wanted to provide an end-to-end offering that allowed our clients to digitally transform their business in previously unheard-of timeframes. To achieve this, we developed a suite of products and bespoke services for our clients to access during engagements:
Software Products – both front and back-end – which clients can use off the shelf to rapidly launch digital insurance products
A Managed Service offering for our software products
A Development capability to customise the digital journeys on our technology and ensure they are efficient and engaging
A Digital Consulting offering to support clients in their digital transformation journey with business, technology and marketing strategies
We work only within P&C insurance and our clients include both insurers and MGAs. We have grown significantly over the last 10 years and are now a team of nearly 200 people.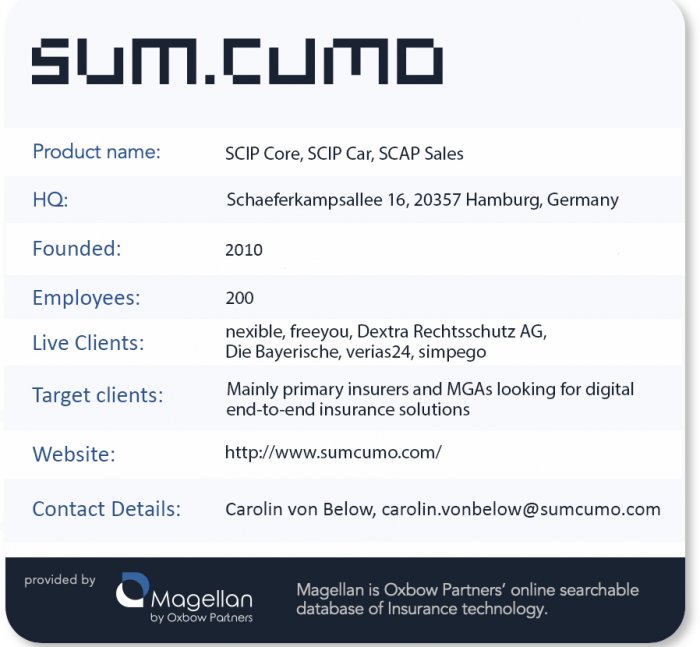 George: Can you talk us through a typical engagement?
Bjoern: We are regularly engaged to build greenfield insurance businesses for established P&C insurers. These projects are a great example of how we combine our modular core systems and services to rapidly deliver results for our clients.
In such a project, we like to be involved right from the very start, first helping the client develop a coherent business plan which can be invested in by senior stakeholders – here our Digital Consulting capability is essential. Once an investment decision has been made, we start developing an MVP as quickly as possible – often in under one month. Such speeds are achievable by using our technology as the backbone. The MVP can then be managed and fine-tuned over time.
George: What software products do you have available off-the-shelf?
Bjoern: Our software offering – sum.cumo Insurance Platform or "SCIP" – consists of three flexible modules. All of these modules are provided free for our clients.
"SCIP Core" is a full-blown PAS for P&C insurers, which includes a standard set of product-specific processes and features out-the-box
"SCIP Car" is a module that provides all essential functions for the operation of digital car insurance business in the DACH market
"SCIP Sales" is a unique modern e-commerce platform for online insurance business with a powerful front-end which allows our clients to rapidly provide digital customer journeys
George: We saw that Sapiens recently became a shareholder. Can you tell us a little bit more about that and your relationship with them?
Bjoern: We had been looking for a new shareholder that could help unlock the next phase of growth for sum.cumo. A shareholder that had scale, bought into our business model and could help us expand. We found all of this in Sapiens.
Correspondingly, Sapiens found in us a strategic partner that has strong connections in the DACH region and can help bring Sapiens products to market in this area – the relationship is symbiotic. We often find that our clients have needs that can be addressed via a Sapiens product.
George: What does the future hold for sum.cumo?
Bjoern: There are a few things that I would point to. Firstly, we want to get even faster at delivering MVPs and making our MVPs bigger – this means delivering more functionality from day one. Secondly, we want to work closely with Sapiens to deliver solutions that will drive value for our clients. Finally, we want to keep having fun. We were recently voted the Best Workplace Award by kununu – the German employer rating platform. We are proud of this and believe that this is critical to our ability to continue delivering great results for our clients.
The Oxbow Partners View
sum.cumo's proposition is a clever one, and the strong traction enjoyed by the business is likely a testament to this. The approach of tackling known technology pain points – such as lengthy product launch times – is savvy, and the timeframes advertised (i.e. product launch times measured in weeks, not years) will catch the eye of many a frustrated executive.
Another feature of sum.cumo's proposition that should resonate with executives is its 'full-service' approach. Having a single third party provide all of the required software, development, consulting, etc. for a large change programme has significant ease-of-working benefits – a vendor selection criterion that is easily (and often) overlooked, as we discussed in our TechExec with Jörg Renger, Managing Director at Faktor Zehn.
The challenge for sum.cumo will come as it looks to expand out of its core focus area – greenfield motor insurance propositions. Delivering the same speed to market in non-greenfield projects – where annoyances such as integrations with pre-existing technology must be considered – will be challenging. However, our impression is that the enthusiasm of Bjoern and team will likely be a match for this challenge.
Want to know more? You can find detailed information on the companies featured in our TechExec series on Magellan, Oxbow Partners' comprehensive InsurTech database