TechExec: Nigel Phillips, CEO at CDL
March 1, 2021 Dougie Willins
In our latest interview Dougie Willins, a Manager at Oxbow Partners, caught up with Nigel Phillips, CEO at CDL, a leading UK-based InsurTech. 
Our TechExec series consists of monthly interviews with senior executives from various insurance technology companies, discussing how they are helping their clients and their plans for the future. We cover a range of companies from the industry stalwarts to the new-comers looking to make a mark on the industry.
Dougie: Can you tell us a little bit more about CDL for those that do not know you?
Nigel: We are a technology services provider, supporting high volume personal and commercial lines insurers to innovate and thrive in the highly competitive UK insurance sector. Our sustained success in this market has been driven by our approach to innovation and by positioning ourselves at the leading edge of technology.
There has been a huge amount of change in the UK market in the last 10-20 years, most notably the introduction of price comparison websites. Our solutions helped insurance retailers to secure business through these sites from the beginning, while also providing the hub technology to support the model efficiently. Our track record has been built working with high volume retailers, high street brands and large personal lines insurers. However, the technology is adaptable to other sectors looking to drive customer experiences and operational efficiencies through technology, including SME and commercial lines.
The solutions we have built work efficiently and at scale – today we are processing more than 1 billion events a day.
Dougie: How do you differentiate yourself?
Nigel: Our starting point for driving innovation and technology is to look at the requirements of the consumer. We have already fixed some of the hardest technology challenges – for example, we first built self-service capabilities in 2011.
The next step is changing the customer's perspective on insurance – how do you make insurance interesting? We are working on new ways to interact with the customer and bring the product to life. Our new solutions do the hard work for the customer and advise them on the optimal level of cover for their needs. For example, if we can see that they are no longer using their car to commute, we enable them to adjust their cover through a quick and easy digital process.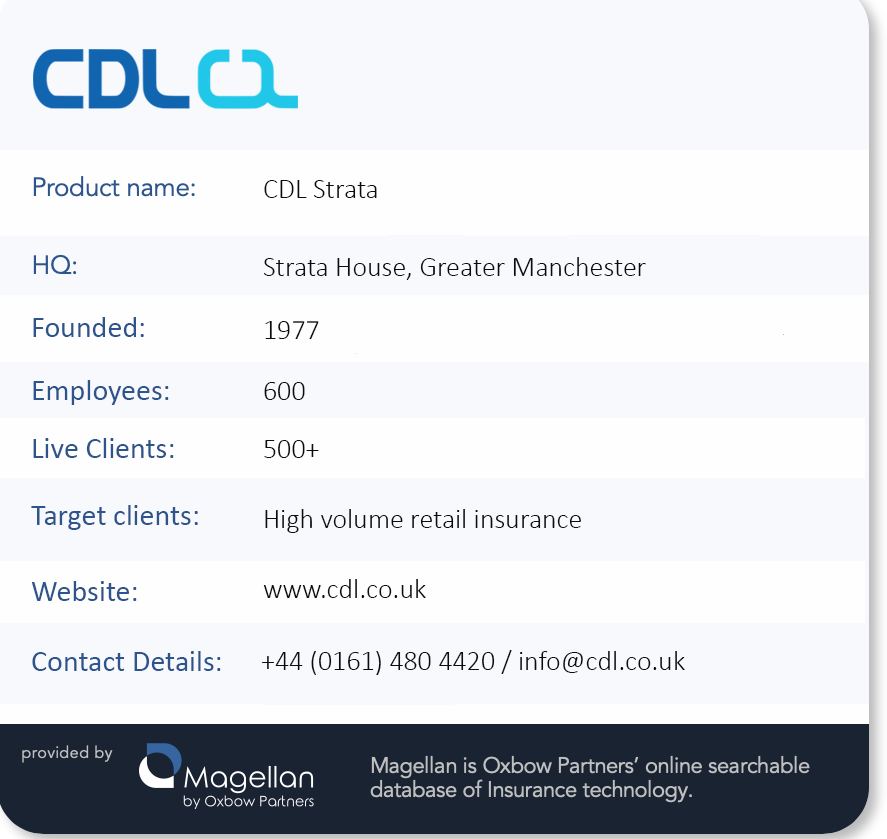 Dougie: What is CDL's approach to R&D?
Nigel: Our R&D approach is based on the thesis of 'continuous' – continuous investment, development, and deployment.
We are fortunate that the North West is a growing hub for digital talent and we have big technology players such as Google and Amazon on our doorstep. We have built strong relationships with these players – for example, we are a top-tier partner in the AWS partner network. This helps us understand the direction in which the market is moving and enables us to lead our insurance clients.
Our labs are continuously exploring ways to incorporate new technology solutions such as AR and AI into insurance products. Our method is to create prototypes quickly, then test their capabilities at beta. This often produces great results, but it also helps us see when technology is not quite ready. For example, a while back we explored 'augmented reality' technology and how it could assist with image recognition – it was great then, but not quite ready. We then rediscovered it for use in pet insurance policies to recognise pets' breeds.
We have a lot of exciting propositions ready to go, the main challenge is finding the carriers that are ready to make these changes.
Dougie: Some people might describe you as legacy technology since you were founded many years ago. How do you respond to this?
Nigel: It's an interesting discussion. The insurance industry has many traditions and legacy software vendors out there. We have distanced ourselves from that world through our actions – our customers come to us and ask, what's next?
Over the course of our history, we have helped insurers transition through the various technology eras; call centres in the 90s, followed by the first quote & buy web solutions, then comparison sites in the 00s. By continuously taking new solutions to market, we always offer our clients something fresh and exciting. Our major target market – high-volume insurers and retailers – have always been driven to move through these eras quickly due to competition, and we've been there with them from the start.
Dougie: Finally, what does the future hold for CDL?
Nigel: In the near-term, regulation is going to be a big strategic challenge and the changes will require our clients to re-evaluate their positions to meet customer expectations. We have the tooling and support available to see them through these changes.
The big thing for the future is "solving the simple" – making it super easy for consumers to understand their insurance products. We want to help them understand what they've covered, what they get out of it and whether they're getting a good deal. Our ambition is to help insurers move from the single customer, single policy model to one where each customer can access all of their policies in a single portfolio.
At the same time, customers are increasingly looking to the broader ecosystem – challenger banks and bancassurance providers, for example – to access insurance. By joining with providers like these, we help our clients to overcome that one-customer, one-policy model.
The Oxbow Partners View
The implementation of insurers' responses to the FCA's pricing fairness review later this year will be the latest step-change in the UK market. The regulation will require market participants to significantly rethink their proposition strategy across the insurance value chain.
This will have major implications for technology vendors and their ability to adapt to the new demands of their insurance partners. However, CDL's longevity means that it is one of the few vendors that have experience helping insurers navigate such a fundamental shift in the market, having previously pioneered the launch of price comparison websites.
CDL's experience and approach to innovation puts the firm in a strong position to continue their successful track record. The expansion of their proposition portfolio and ability to integrate clients to a range of technology and distribution partners will become increasingly important as insurers and brokers aim to reach customers through new digital channels. We look forward to seeing how CDL help their clients in the years ahead.