TechExec: Steve Lathrope, CEO at SSP Worldwide
June 6, 2020
In the third of our TechExec series we interview Steve Lathrope, CEO at SSP Worldwide, 'SSP' to its friends. In this interview, Steve talks about the £40m transformation that SSP has undertaken in the last 4 years and what the future holds for the business.
Greg: Hi Steve. Can you introduce SSP for the few people in our audience who don't know the business?
Steve: SSP is a UK-based, international provider of insurance software.
Our business has three focus areas. Firstly, we provide core administration systems for brokers, MGAs, insurers and financial advisers. Second, our distribution services connect insurers directly into brokers, providing them with access to valuable areas of the personal and commercial lines marketplace, particularly in the UK. Finally, we operate pricing, data enrichment, and market insight services for insurers, brokers and MGAs.
We're best known for core policy management systems, but over recent years we've evolved to focus on helping our customers to achieve innovation and growth in their business using our technology in different ways. For example, our Intelligent Quotes Hub is used by companies including those that have non-SSP admin systems, ranging from large scale players such as LV= using IQH to price their huge volumes of motor business accurately via the aggregator channel, to relative new-comers such as innovative MGA Pukka.
The use of data at the front line of the insurance industry is another key theme.  Our data lake contains more than 1.5 billion quote requests and responses, from which we provide our customers with powerful insight into market behaviour, their performance and opportunities for growth.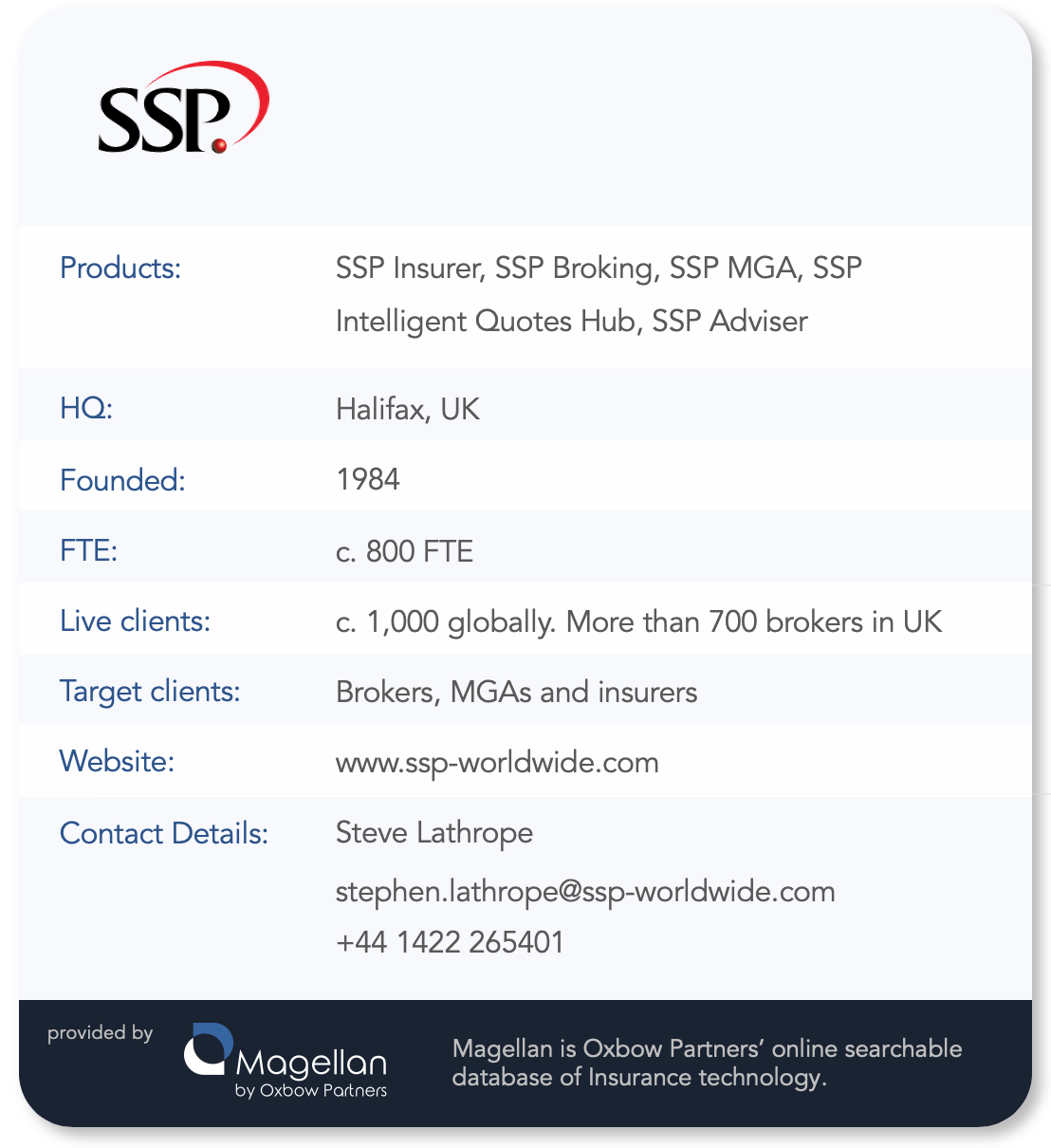 Greg: I wanted to tackle the 'event' upfront. Talk to me about what happened in late 2016
Steve:  Of course.  A subset of SSP's clients suffered significant service downtime following a data-centre outage in late 2016.  That disruption was a real wake-up call – not just for SSP but for the industry as a whole. It was the point at which people realised what 'material outsource' really meant, and just how important the reliability of the operations of their service partners is to the robustness of their own businesses.
Following that event, we have invested more than £40m in a radical transformation of our software and service operations including the development of our new SSP Insurance Platform and a programme of work that will migrate all of our hosted services into the AWS cloud.
It's taken us three years to deliver the platform because we've been determined to build it properly, applying modern architectures, technologies and engineering practices.  We're confident that the platform represents a huge leap forward relative to the technologies available to the industry today, and it will be a game-changer for SSP and our customers.
Greg: Would it be fair to say you've had your heads down over the last few years?
Steve: Yes, totally.  We've been doing lots of exciting things with new and existing customers, but it is fair to say that we've not been out in the marketplace making much noise about what we have to offer.  That was a conscious decision, because we needed to have our new platform ready for customers before we did so.
The platform isn't just a 'respray' of existing software, or an old app stuck in a private data centre pretending to be the cloud. It's a complete rearchitect that sets us up for the future. We have been using some key components of our SaaS platform in solutions with major customers like Direct Line for Business for a few years now, but in 2020 we'll be going to market in earnest.
The new platform is designed for modularity and openness, and is fully API-enabled using a powerful mircoservices architecture. It's designed to enable innovation to be delivered rapidly. Previously you had to take all or nothing from insurance software providers. Now we can support the design, launch and refinement of new insurance products in a matter of weeks, without having to tinker with core systems. Or we can implement a complete insurance sales and admin system in months.  We've had particularly strong up-take in Australia and South East Asia. For example, supporting the launch of a startup MGA in Queensland with a complete admin platform, from a standing start to live and trading in 8 months.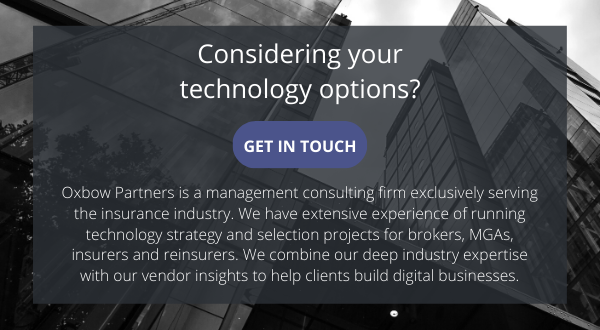 Greg: How would you say you were different from the other players?
Steve: Given the breadth of our customer base and our solution capabilities, the question of differentiation depends on which part of the market we look at.
In the UK broker space our competitors are Open GI, CDL, Applied and Acturis. Historically, software and service in this sector has either been ageing and patchy or proprietary, inflexible and expensive.  The battleground in broking is in providing modern, reliable and functionally rich technology that enables brokers to continue to add real value in their role working with customers and underwriters. Our SSP Broking platform is a huge leap forward for SSP – but, frankly, we and the wider broking technology sector was sorely in need of a refresh.
In the insurer and MGA space, the nature of competition has shifted. Tech providers used to be considered to be 'InsurTechs' or 'incumbents'.  In reality, what matters is the ability of tech companies to enable insurers to innovate and operate effectively.  We're proud of the experience and intellectual property that our history provides, but we've now invested in technology that is as cutting edge as any new entrant competitor. That technology is live and proven at volume, supporting a wide range of products and channels.
The SSP difference is that insurers and MGAs can use SSP's 'light touch' solutions to launch innovative new products and services on a lean basis, but with the confidence that if they choose to scale up we can provide the full breadth of manufacturing/administration functionality that they'll need.  There is a tendency to under-estimate the complexity of processing required to support world-class insurance products and service. It isn't something that is straight-forward to build from scratch. We benefit from deep experience, proven functional components and intellectual property, which we can now deliver via a rapidly deployable SaaS platform that is designed to enable our business customers to create new products, pricing and customer journeys with a high degree of agility and independence.
Greg: What should clients look forward from you in future?
Steve: Our shift to a cloud-based platform creates lots of opportunities for our customers. It enables us to share the benefit of our investment in new capabilities with all of the customers operating on it, rather than the benefit of R&D being focused on customers using one discrete 'package' or another.  The DevOps tooling and processes that underpin the platform move us away from infrequent and costly upgrades to more regular, automated software deployments that deliver functional improvements efficiently and reduce the cost of ownership for our customers.
We're also seeing our 'modularisation' approach aligning well with the way that market demand is developing. Many insurance organisations are moving away from 'big bang' replatforming projects and focusing on shorter sharper bursts of effort to build new products or capabilities, either on top of or alongside existing core platforms (i.e. hybrid technology stacks).

Customers also seem to share our enthusiasm for working together using internal and external data to enrich pricing and shape new sales and service experiences.  I've already mentioned the 1.5 billion plus quotes that we're using to drive distribution insight.  We're also helping customers to use third-party data to enhance their competitiveness.  L&G's 'Smart Quote' product supported by our Intelligent Quotes Hub is a great example of the sort of innovation that drive convenience and hence growth.
Alongside our new SaaS technology and enhanced service operations, data will be a hugely important part of what we offer to our customers into the future.
The Oxbow Partners view
The outage that a subset of SSP customers experienced in late 2016 was a momentous event not only for SSP but for the UK insurance technology industry. SSP have clearly taken this 'wake-up call' seriously. The £40m investment made over the last 3+ years is testament to this.
The transformation project aligns well with what we're hearing in the market. For instance, allowing clients to overlay SSP technology over existing technology, rather demanding a full rip and replace. Our recent thought piece about Technology Ecosystems highlighted the shift away from full-stack platform replacement projects towards hybrid and ecosystem platforms. SSP are also investing heavily in data and analytics, a topic that is front of mind for most of our customers and increasingly a hygiene factor in insurance technology.
SSP's industry experience is undeniable. It certainly helps provide credibility in the market and helps to accelerate delivery projects, compared with some startups who can be learning on the job.
The challenge, as with all the incumbent vendors, is convincing customers that a true evolution has occurred (e.g. not just a platform 'respray'). SSP's recent experiences with the likes of L&G and the Australian startup demonstrate market confidence in genuine change. Clearly SSP's journey is only partly complete. However, the changes over the last 3 years certainly won't damage their chances to complete that journey at pace.