TechExec: Tomek Bugajski, VP and General Manager of eBaoTech EMEA region
April 19, 2021 James Tribe
Our TechExec interviews are powered by Magellan™, Oxbow Partners insurance technology navigator. Magellan™ provides executives and investors with information for over 2,000 vendors. Contact the team to find out more.
In our latest interview James Tribe, Content Manager for Magellan, caught up with VP and General Manager of eBaoTech EMEA region, Tomek Bugajski. They discussed how eBaoTech, and their middle office software InsureMo, is helping clients prepare for the future of insurance.
James: Could you introduce eBaoTech for those who may not know the company?
Tomek: eBaoTech are an insurance-only provider of core systems technology, that was founded in 2000 with our first client Ping An. We established our European presence in 2004 and have continued to expand to our current position today; a global provider with carrier, broker, and ecosystem partners in every continent. Our International Headquarters are in Singapore, with offices across 13 countries in APAC, Europe, and Americas, and we have grown to about 200 insurance carriers and 300 non-carrier clients globally, with the number continuing to grow each year.
James: What services are you able to provide?
Tomek: We have two major solutions, our functionally-rich "eBao Software" suite, and our microservices suite "eBaoCloud", which is built around our middle-office platform, "InsureMO".
Our eBao Software suite is a feature rich enterprise core solution covering the whole end-to-end value chain from policy management to underwriting and claims, with dedicated products for Life and General insurance. We see eBao Software as the robust digital Core System that can meet all of our client's 'hygiene factors', namely stability, speed, and robustness.
eBaoCloud is a family of products based on open API microservices technology, including ecosystem platforms, SaaS, and PaaS for insurers, traditional channels, affinity partners, and fintech/insurtech startups.
The backbone of eBaoCloud is InsureMO, our insurance PaaS middle-office solution. The system is an enablement and connectivity platform with functionality across the value chain, designed to handle the large volumes, variation, and velocity of business required in the digital age. InsureMO provides services and APIs for deep policy and claims management functionality including Product & Channel Configuration, Quote, Bind, Issue, Endorsements, Claim registration and assessment, etc.. The key capability of InsureMO is its ability to orchestrate and integrate insurance related APIs with those of 3rd party technology providers and ecosystem partners – for example, connecting with other systems in our client's technology estate, new data sources, or into third-party e-commerce provides (e.g. Amazon). This rapid and convenient connectivity is the single biggest advantage of eBaoCloud.
James: Tell us a bit more about InsureMO. Why do you feel it's so vital to offer a 'middle office', and why is it so vital for the industry?
Tomek: I remember several years ago, around the time we'd moved our focus to developing InsureMO, an Accenture study found that 50% of consumers were willing to buy insurance from new players. That doesn't mean just new insurers or brokers, but non-insurance players moving horizontally into the market too – for example, Tesla selling embedded auto insurance. The platform-based connectivity and orchestrability behind InsureMO allows insurers to participate in this rapidly-evolving "horizontal" insurance marketplace by providing the functionality for them to plug into dozens or hundreds of ecosystems in order to reach their target customer.
The other key benefit of InsureMO is that clients do not need to 'rip and replace' their core system in order to receive the benefits. Instead, they can maintain their existing policy admin system as the system of record and InsureMo can sit 'on top' of it – pulling the required data as and when it needs it. This allows the client to access the full functionality of InsureMO, without the pain and expense of a full 'rip and replace' project.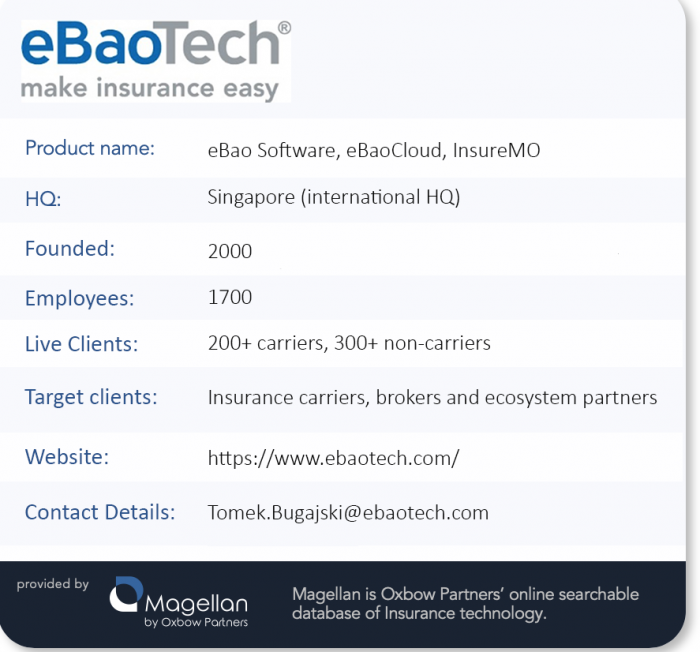 James: How have you developed InsureMO?
Tomek: Our Core eBao Software and InsureMO teams are kept separate and have their own objectives, both financial and in innovation. In some cases, they are operating sufficiently separate that some clients who use both solutions, don't even realise that they come from the same company.
For InsureMO, there are a few ways in which we've built both innovation and future-thinking into our products. For example, we no longer think in terms of insurance 'products', but prefer 'stock-keeping units' or SKUs. This reflects our belief that high-volume insurance policies are beginning to resemble fast-moving consumer goods in some ways, such as the range and scope of different policies and their personalisation to each policyholder. We also measure our progress not just in terms of revenue but also in engagement measures, such as new channels opened and transactions managed. This is important because again, future insurance systems must be able to handle transactions from a plethora of ecosystems and channels efficiently and still maintain the flexibility to effortlessly open new channels if and when they are required.
James: So what features and developments can your eBaoCloud and InsureMo customers look forward to?
Tomek: New features are being launched continuously as we have truly embraced the DevOps mindset for driving the roadmap behind InsureMO. Growing our existing marketplaces is definitely one of the focus areas where we are onboarding more and more partners, providing their solutions which can be bundled together with our transactional insurance services and APIs. This way we can offer innovative use cases and customer journeys across insurance related ecosystems: an "insurance wallet" offering, embedding insurance into customer loyalty management programs, and a mobility platform with insurance connectivity for a car manufacturer are just a few examples of initiatives we are currently working on. We truly believe that the future of insurance is connected insurance and as an industry, we need to move fast from a traditional "systems" to "platform" driven transformation.
The Oxbow Partners View
The 'Core Systems' technology space is crowded – our insurance technology database Magellan lists over 400 providers of policy administration and core administration systems. Yet core systems selections can often present a trade-off. As we observed in our recent InsurTech Impact 25 report, insurers can find themselves choosing between functionally rich incumbent technology providers with legacy technology, or new players with modern, open software, but a crucial lack of insurance functionality and expertise.
Based on our interview, eBaoTech are also highly conscious of the potential for legacy to become hidden away deep in traditional systems. The division of their operations into enterprise (eBao Software) and 'ecosystem' (InsureMO) teams should help to allay this. While acknowledging the upfront investment required, Tomek was keen to emphasise that InsureMO is built for the future of building and distributing insurance products. If you are looking for technology to enable your digital growth strategy in a flexible way, get in touch with eBaoTech to see if InsureMO can help you.
Visit Magellan™ to discover more about eBaoTech's capabilities, clients, and geographies.