Anorak: Impact 25 2020 profile
March 10, 2020
This is a summary of the profile which first appeared in the Oxbow Partners InsurTech Impact 25: 2020.
Anorak is a tech-led Independent Financial Adviser (IFA) using proprietary algorithms to deliver personalised life insurance, critical illness and income protection advice.
It is backed by AXA's Kamet team. Anorak's recommendation engine uses fully transparent rules-based algorithms. The system generates recommendations based on data provided by customers and third party sources. Its algorithms have also been trained using banking transaction data supplied by AXA Bank (France). The advice is based on suitability factors, and the products that are offered are not necessarily the lowest priced ones on Anorak's panel.
Distribution partners integrate Anorak's technology into their digital customer journeys via APIs. These partners strengthen their overall value propositions and create new revenue opportunities by offering free, independent life insurance advice.
Importantly, Anorak is a regulated IFA, meaning that its partners do not need to establish regulated capabilities in-house.
The Anorak platform is also used by some partners on a SaaS basis to automate the often paper-based and time-consuming process of constructing personalised recommendations. For example, London & Country (L&C) is a large UK mortgage broker with c.500 staff. Many clients require life insurance when purchasing a mortgage and L&C wants to increase the penetration of protection sales whilst mitigating conduct risk.
Anorak has recently completed a successful proof of concept with the company to analyse the data collected during the mortgage fact-find process and generate personalised life insurance advice automatically.
"We partnered with Anorak for FCA-approved advice supported by advanced AI technology, that can automatically identify a
customer's changing needs. We're proud to be one of the first users of Anorak."

Anna Mitchell, Head of Marketplace, Starling Bank
Company in action
Anorak's platform enables its partners to offer life insurance advice D2C or provide their sales staff with an automated tool to construct personalised advice. Once the recommendation request is triggered, Anorak's algorithms analyse the data and present the three most suitable policies from its panel of over ten tier-1 insurance partners.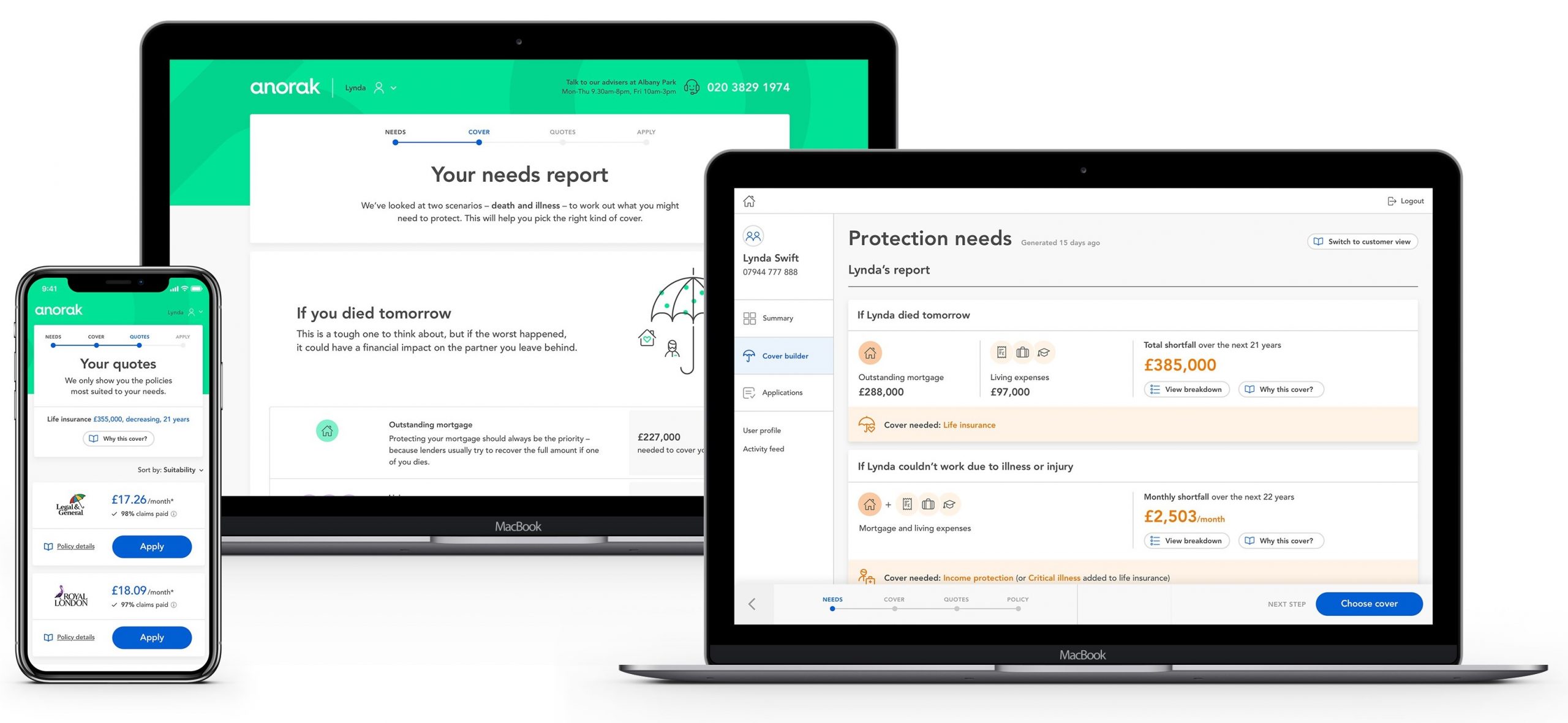 Case Study
Client situation: Starling Bank is a UK digital challenger bank servicing over one million accounts. It provides a marketplace of financial products. Customers can authorise marketplace companies to access their data and offer personalised products and services. Starling chose Anorak to provide retail life insurance, critical illness and income protection products.
Solution: Customers provide Anorak with 'open banking' consent to access their account and transaction data via an API and receive personalised advice. Customers must request the advice from Anorak; however, in future recommendations could be automatically triggered when customers are experiencing life events often linked to insurance purchases.
Results: Anorak delivered 3,500 personalised life insurance recommendations in Q4 2019. This solution has created a new revenue stream for Starling as it receives a referral fee when customers convert. Significantly, the average age of Starling's customers is 35 suggesting that Anorak is positioned to help many purchase life insurance for the first time.
The Oxbow Partners View
We have selected Anorak as it is one of few Distribution InsurTechs in the life market making headway. It is also a good example of both an 'ecosystem' play and the impact of open banking on insurance.
The latter is particularly interesting given that the 'neo-banks' are beginning to gain traction – Monzo, Revolut and N26 have, between them, in excess of 10m customers (although the definition of customer is still somewhat opaque). This will be of interest to insurers who are currently big players in the bancassurance market as they consider where to find future demand and how to serve it.
It is also worth reflecting on the average age of the Starling customer base. Whilst established insurers battle for growth through largely price-driven market-share gains in established segments, Anorak is targeting new customer segments. Established wisdom is that the younger, millennial segment is not a natural buyer of insurance.
We have noted in this report that the traction of some InsurTechs in the millennial market suggests that there is a big market to be won here, but that the segment simply has not been 'connecting' with traditional propositions.