Avantia: Impact 25 2020 profile
March 10, 2020
This is a summary of the profile which first appeared in the Oxbow Partners InsurTech Impact 25: 2020.
Avantia is a digital MGA which sells home insurance via price comparison websites and D2C via its HomeProtect brand. Its book is roughly 70% non-standard, meaning that the property has at least one unusual feature like a flat roof or past flooding. The company processes over two million quotes per month.
Avantia has invested heavily in R&D and has built a proprietary risk modelling and retail pricing technology stack ('Cortex'). Data has been accumulated from its ten year trading history. The company applies a data science approach to underwriting and is able to price difficult-to-insure risks: its systems automatically return a price for 98% of quote requests giving it one of the widest automated underwriting footprints in the market.
This is achieved by using the same 'stack' for both development and live pricing, which maintains the granularity of the pricing model and allows Avantia to cherry pick amongst risk pools. Real-time data streaming is a key technology design principle within Cortex. Avantia ingests a growing volume of real-time data and believes it is well placed to capitalise on the huge amounts of data available to the insurance industry via smart homes and IOT technologies.
In 2019, Avantia also launched a premium financing product and took full delegated authority for claims meaning that it now controls the full customer journey from quote to claim and renewal. The retention rate is over 90% by value.
"Avantia worked in a highly collaborative way and the platform had a dramatic impact on performance. The speed with which they turned up performance was unprecedented and is a testament to the skill and intelligence of the Avantia team."

Laurent Matras, Executive Managing Director – Retail, AXA (UK)
Company in action
Using data streaming technologies, Cortex (Avantia's proprietary machine learning platform) can quickly start learning from new data sets and retrain models when this data reveals stronger predictive abilities. Cortex has been architected to ingest and process data across the entire policy lifecycle and multiple product lines.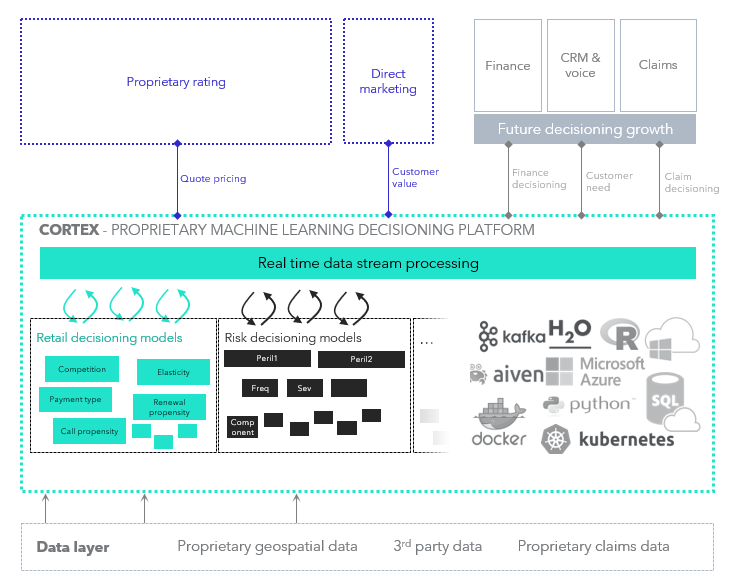 Case Study
Client situation: Customers with 'non-standard' characteristics struggle to purchase home insurance as most insurers cannot quote them online. These include past flooding, claims history, unusual building materials, businesses operating from home and high-risk jobs.
Solution: Avantia serves the entire UK standard and non-standard market, instantly quoting over 98% of all risks digitally. Many insurers quote 50-65%, whilst Avantia's closest non-standard competitors quote approximately 78% according to independent analyses.
Results: Since launching the new technology platform in 2017, Avantia has increased sales by over 20% annually and reduced its non-standard loss-ratio by 20 points.
The Oxbow Partners View
Avantia is the kind of company that pushes the definition of InsurTech. The company was launched over ten years ago and therefore predates even the term InsurTech.
However, we decided to include the company because its data and technology capabilities are truly impressive. Unlike many MGAs, Avantia places data and technology at the heart of its decision-making processes. Its rigorous separation of risk and retail pricing is an example, and Cortex is market-leading in its capabilities here. As one insurance executive once commented to us, Avantia's systems are "sophisticated" whilst their own company's were merely "complex".
A challenge for Avantia, like the rest of the industry, will likely be competition for data and technology talent.
However, despite its lack of mass-market brand, Avantia may enjoy some advantages over incumbents here: there is a vast trove of historic quotes for data scientists to explore – something that is often not the case in larger companies constrained by their legacy technology and trapped data.