battleface: Impact 25 2020 profile
March 10, 2020
This is a summary of the profile which first appeared in the Oxbow Partners InsurTech Impact 25: 2020
battleface is an MGA and Lloyd's coverholder that designs, distributes and services travel insurance products for individuals and organisations not served effectively by traditional suppliers. Its founders have deep domain experience including medical evacuation and crisis response assistance in complex environments.
The company's API-based technology platform enables it to integrate with insurance and non-insurance distribution partners and is fuelling its growth. For example, battleface has designed a customised travel insurance product for Soliswiss, an organisation of 4,000 Swiss expatriates. This contains coverage for political evacuation and support to arrange this at short notice via battleface's partners. battleface and its partners' experiences of working with NGOs in dangerous areas and conflict zones provides benefits that adventure travellers, for example, require and value.
battleface will shortly launch a partnership with Clements Worldwide, a large international broker serving expatriates and international organisations. It offers a wide range of products in over 170 countries but surprisingly does not offer a customisable travel insurance solution. battleface will integrate it's products into the Clements platform. Clements also chose to work with battleface due its global network of 24/7 emergency, medical and travel assistance coordinators.
"Clements Worldwide is excited to team up with Battleface as their flexible technology seamlessly integrates into our global platform. Their extensive travel insurance and service experience makes them a viable partner."

Tarun Chopra, CEO, Clements Worldwide
Company in action
battleface's API-based technology stack enables it to seamlessly integrate with B2B2C distribution partners on an own-brand or white-label basis. Its 2020 technology plans include group quotations functionality that will allow groups of 5 or more travellers to customise products. The battleface platform will move beyond a traditional quote and bind digital insurance solution and offer travel related services and benefits. These will include travel itinerary management, travel and medical assistance services, medical referrals based on GPS locations, and travel and security alerts.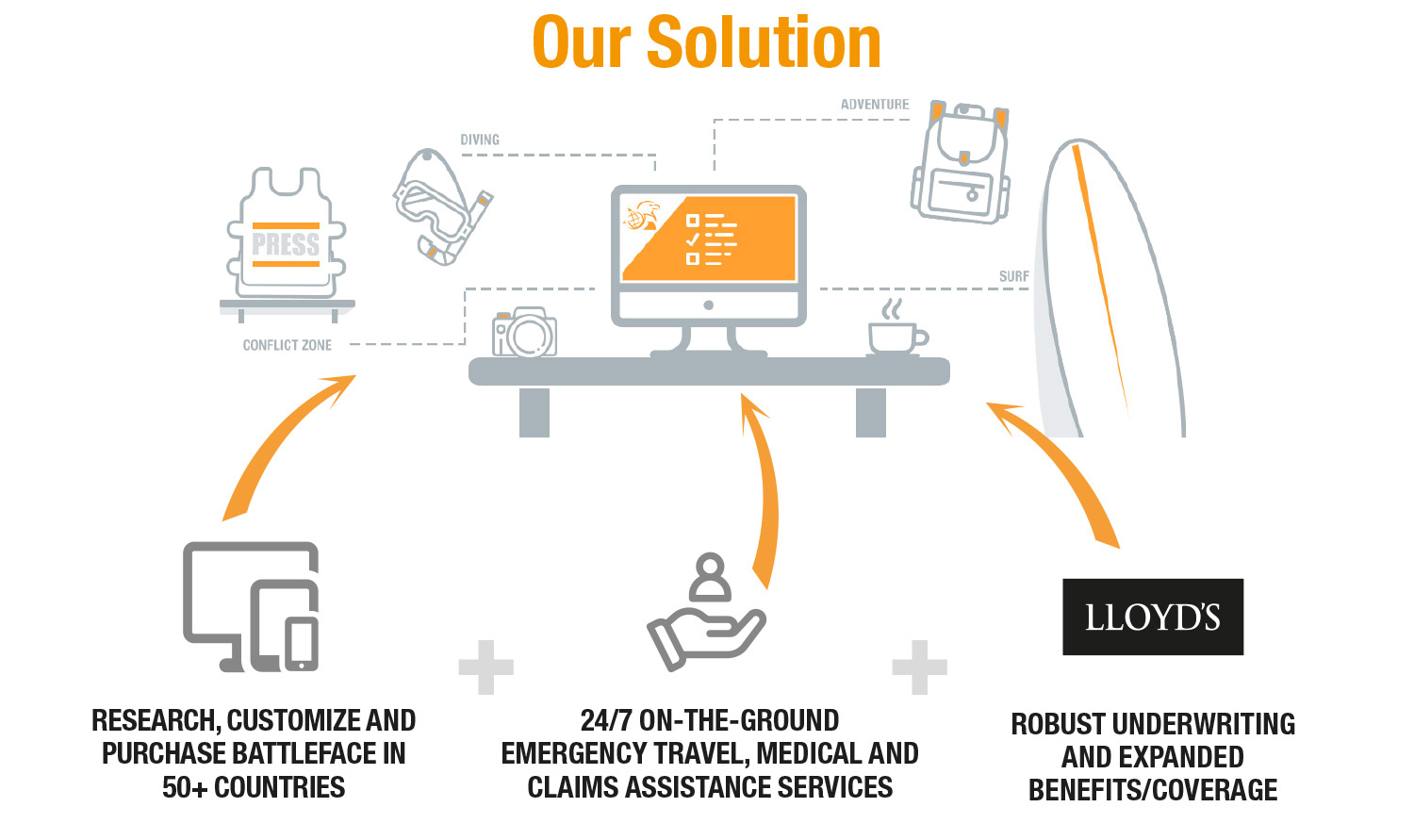 Case Study
Client situation: The International Federation of Journalists (IFJ) represents 600,000 media professionals in over 140 countries. Off-the-shelf travel insurance products do not meet the needs of its members, especially the growing number of self-employed journalists who often operate uninsured.
Solution: battleface has designed a customisable product to meet the IFJ's complex requirements. It has deployed its technology solution via the IFJ's membership website on a white-label basis. This enables immediate quotation and purchase with speed of enrolment critical for many IFJ members who make travel decisions on-the-go.
Results: This B2B2C partnership is an example of how battleface designs customised products for groups with specific needs and embeds its technology solution into its partners' platforms.
The Oxbow Partners View
We have selected battleface as it is successfully using technology to design and deliver customised travel insurance products in both D2C and B2B2C channels. Travel insurance is one of the most widely held insurance products as it is often embedded with financial services products such as credit cards.
However, it is arguable whether customers are aware of this embedded insurance or even value it considering how many exclusions and limits usually apply to these commoditised products. In effect, this means that many people travel uninsured or underinsured with many organisations finding it complex and expensive to arrange customised travel insurance.
battleface's experienced founders are applying technology throughout the value chain to address these known product limitations.
Similar to other Impact 25 Members this year, battleface's traction demonstrates how MGAs with specialist market knowledge are leveraging technology to quickly capture new business opportunities that are currently too niche for many incumbents to pursue.