Concirrus: Impact 25 2019 profile
March 4, 2019
This is a summary of the profile which first appeared in the Oxbow Partners InsurTech Impact 25 2019.
Concirrus is the creator of Quest, a big data and analytics platform designed to deliver greater visibility of risk for the marine and motor insurance markets.
Quest can access and interpret large sets of historic, semi-static and real-time data, including segmentation factors not readily available to the market today. This could include granular behavioural information (e.g. vessel statistics, movements, driving behaviour) and an insurer's own information.
The results enable (re)insurers and brokers to gain better visibility of their portfolio, quantify risk more accurately and identify new opportunities for business and revenue growth. Quest makes it possible for insurers to offer new, more targeted products and connected insurance policies.
In October 2018, Concirrus announced a global partnership with Marsh, which will push the platform out to Marsh's marine clients. In November, Concirrus announced a partnership with TransRe, with whom Concirrus will develop innovative marine reinsurance solutions.
One mooted solution could be a dynamic reinsurance programme that is customised to the risk in a portfolio at any point in time, facilitated by a 'data-driven dialogue' between cedent and reinsurer, as CEO Andrew Yeoman describes it. The company also announced a partnership with Antares, the Lloyd's Managing Agent.
"We're excited to be collaborating with Concirrus and leveraging Quest Marine to assist our global marine clients in capitalising on the opportunities that digitisation presents."

Marcus Baker, Chairman of Global Marine Practice, Marsh
Company in action 
Quest allows for full visibility of an insurance portfolio and total risk exposure in one place allowing for segmentation of the data to uncover insights to enable proactive risk management.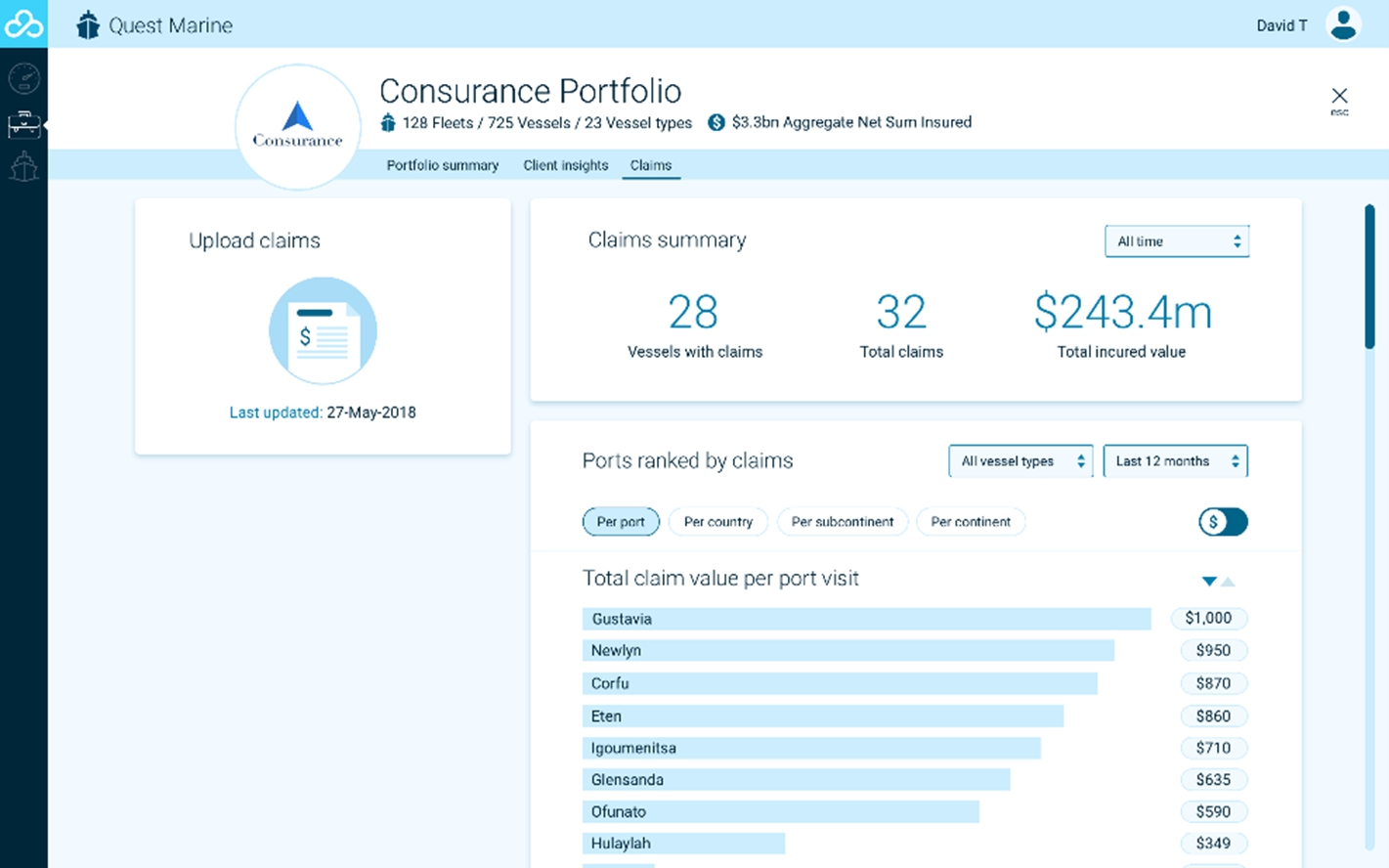 Case Study
Client situation: Commercial marine insurance is highly competitive, and costs are at an all-time high. A large commercial marine insurer wanted to understand how advanced analysis of their portfolio could improve efficiency.
What they did: Quest Marine was deployed to ingest five years of policy, claims and exposure data from the customer. This data was combined with Concirrus' proprietary datasets.
What impact it had: Quest Marine provided new insights into the performance of the portfolio. The insurer was able to make changes to the way risk was elected and priced and managed to improve their loss ratio by more than seven
percent.
The Oxbow Partners View
Over the last two years, marine has leapfrogged other classes of commercial business to become the one that is arguably making the most progress with data innovation. To many this is surprising – marine is to insurance what Adam and Eve are to humanity – and the class has traditionally moved slowly. However, closer consideration of the class makes it a prime candidate for data-driven disruption.
Cargo in particular is high volume and therefore potentially complex to rate and low average premium. Marine telematics is generating huge volumes of data that is likely to yield insights for hull and P&I underwriters. In other words, marine shares many characteristics with motor, which is already a highly quantitative line of business.