Dansk Sundhedssikring: Impact 25 2020 profile
March 11, 2020
This is a summary of the profile which first appeared in the Oxbow Partners InsurTech Impact 25: 2020.
Dansk Sundhedssikring (DSS) uses data and analysis to provide an innovative proposition to over 250k customers. The company currently trades as a B2B2C MGA; distribution is through brokers, life companies and pension funds, and direct sales to corporates. Following the execution of a partnership with AP Pension in 2020 which will bring another 80k customers, it will become the leading provider of private health insurance in Denmark.
The business differentiates itself from other health insurers by maintaining control over the treatment process (i.e. claims), which is informed by its database of outcomes. That means that the company tells customers what the treatment pathway should be rather than just paying claims. For this reason it calls itself a "health provider" rather than a "health insurer" – and the company has both the lowest claims cost and highest customer satisfaction in the market.
For relatively minor conditions like back pain, DSS provides both a digital advice portal, and employs a team of practitioners like psychologists, physiotherapist and nurses who conduct consultations both face-to-face and remotely. For more serious conditions, the company's data can channel patients to the right treatment and clinician based on analysis that, for example, one practitioner is better than another at a certain treatment.
The business is currently in the process of obtaining regulatory approval to set up its own insurance carrier in Denmark.
"IBF has used DSS for more than 3 years. It provides real value to our customers and helps our employees. Any challenges are solved immediately and satisfactorily."

Ulla Sørensen, HR Director, IBF
Company in action
Dansk Sundhedssikring has grown dramatically since 2012, reaching nearly £40m (DKK340m) in revenue for its core product in 2019. A further £10m (DKK92m) is provided by its sister company PrimaCare, a network of clinics.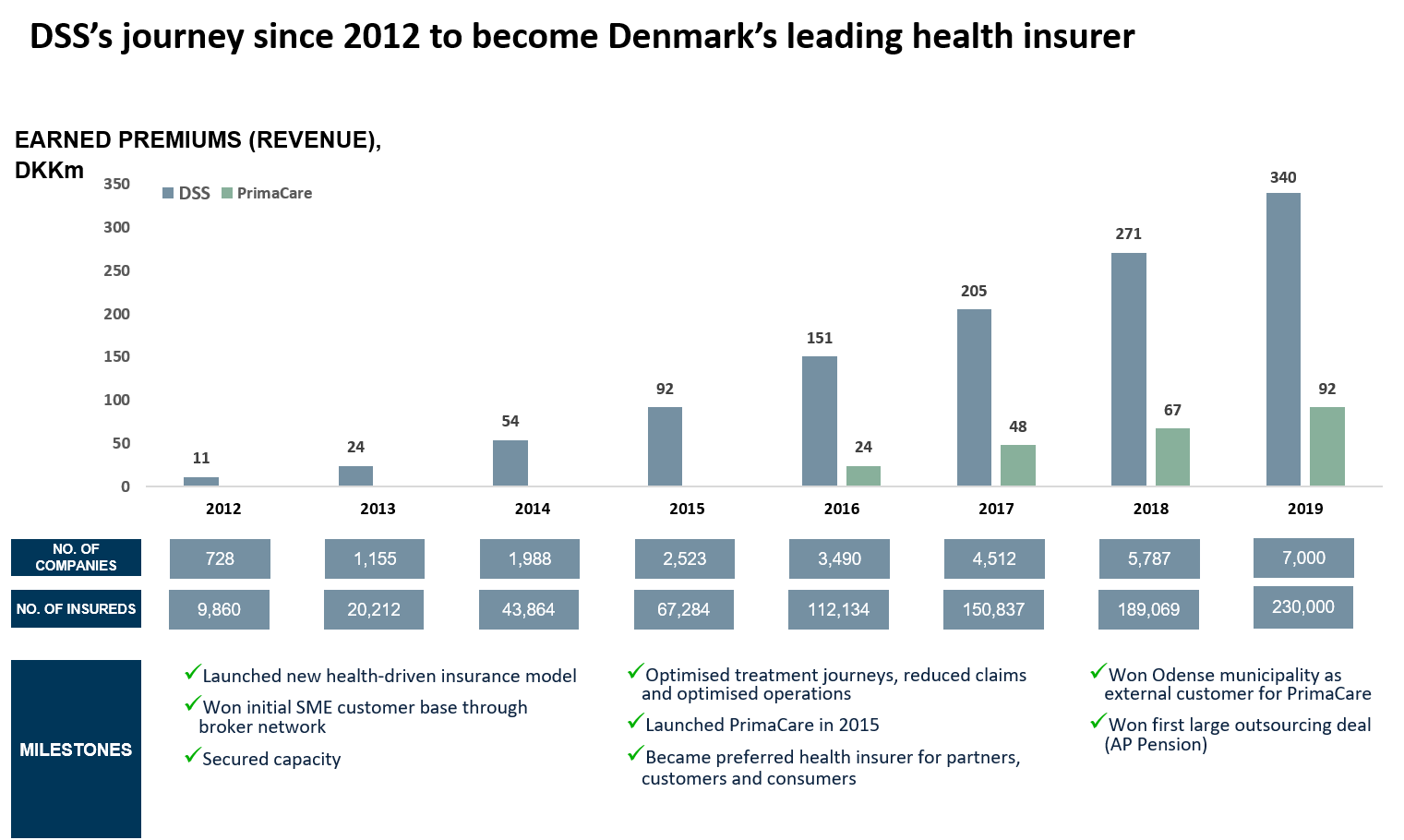 Case Study
Client situation: AP Pension is a medium-sized pension fund in Denmark. They wanted to offer health insurance to their customer base but not to build the product themselves.
Solution: DSS will build a health product for AP Pension's customer base. This will provide its proprietary "red flag" concept which identifies customers at greater risk of long term disease. On top of this they will build an advanced predictive model to find ways of mitigating the risk of health-related long-term leave. DSS is the only provider in the market with data and knowledge on this topic.
Results: Dansk Sundshedsikring won the contract with AP Pension and the partnership will go live in 2020. This will bring an expected 80k customers onto their platform.
The Oxbow Partners View
We chose Dansk Sundhedssikring because it will become the market leader for private health insurance in Denmark, with over 300k customers. This means that it will exceed our maximum revenue criterion – but excluding a company for being too successful did not seem reasonable.
Indeed, with revenue at over £50m in 2019 – its eighth year of existence – this little-known company is blazing a trail for InsurTechs around the world. The company is not only an example for InsurTechs but also for carriers.
The fact that DSS can both maintain control over the treatment pathway and obtain strongly positive customer feedback is remarkable. Many health insurers advertise on treatment allowances (e.g. eligible hospitals, an annual quota of massages for back pain) in their marketing. This can lead to false incentives – taken up by those who want the treatment but may not need it, and limited for those who have a genuine need.
Given the spiralling costs of healthcare, we expect pathway analytics to play an ever-increasing role in insurance – and DSS is well positioned to move into new markets with its new UK-based private equity owners.