Digital Insurance Group: Impact 25 2019 profile
March 5, 2019
This is a summary of the profile which first appeared in the Oxbow Partners InsurTech Impact 25 2019.
DIG was founded in 2017 through the merger of two early European InsurTechs: Knip, a mobile broker, and Komparu, a Dutch insurance SaaS provider.
The company's modular platform integrates into existing IT infrastructure including databases and legacy systems. By integrating with vendors, DIG allows clients to create ecosystems which can drive new propositions and features such as form pre-filling, risk analysis and loss prediction/prevention.
DIG's solutions also include agent platforms, mobile apps and customer portals. DIG says its focus is on ensuring its products are set up for scale and multi-country implementation. The core of the system is DIG's API & data platform.
DIG and Zurich, one of the startup's largest investors and clients, recently entered into a multi-year collaboration agreement. Zurich will use DIG to build new propositions globally including mobile solutions and revamps of existing products using up-to-date data and analytics. Knip, DIG's digital broking app is available in Germany and Switzerland and is TÜV-approved. Knip allows users to manage their insurance via smartphones and provides an overview of all policies, enabling customers to chat with DIG's insurance experts, get independent advice and compare offers.
"We are excited about this collaboration with DIG, a leading InsurTech innovator, to support our digital strategy and capabilities and to ensure we shape the future of insurance."

Theo Bouts, CEO, Zurich Insurances Mobile Solutions
Company in action 
DIG provides one core platform to allow for easy digital life insurance sales. The platform provides integration with credit score providers and data sources for identity and fraud checks, as well as online payments. Fully dynamic price quotations are based on customer input with the option to add and compare multiple insurers.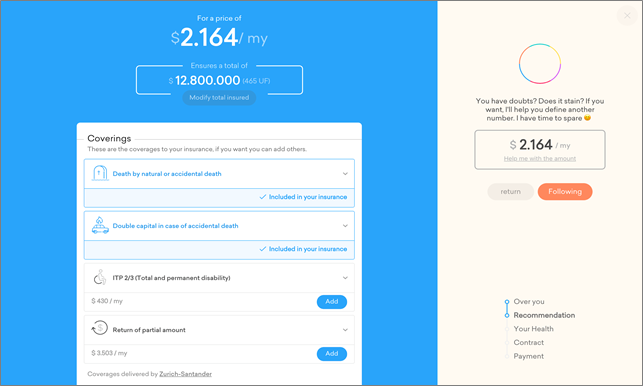 Case Study
Client situation: To meet the needs of the digital generation and grow its life insurance client base, a bancassurance player aimed to set up a state-ofthe-art online broker as a scalable model.
What they did: DIG enabled the bancassurer to set up the digital broker solution in record speed. DIG's platform provided easy-to-buy products, personalised pricing, flexible on/off solutions and a client portal with high engagement (e.g. users could easily change beneficiaries) to stimulate crosssell. It was also linked to multiple insurers for the best personalised offers including the option to compare prices.
What impact it had: DIG's online broking platform resulted in new customers for the bancassurer in target groups that had not previously been reached. It allowed the bancassurer to expand in its region and it will roll the proposition out in several other countries.
The Oxbow Partners View
DIG's heritage and business model are both interesting. The path from Distribution InsurTech to Supplier InsurTech is welltrodden as companies discover that direct insurance sales are slower and more expensive than expected. At the same time they come to understand that insurers find their 'modern' technology stacks interesting. Numerous InsurTechs have either fully 'pivoted' in this way, or partly (by running dual-models – as DIG does).
Second, DIG's model is interesting as it blurs the boundaries between a technology product and development partner. DIG's proposition is built on significant 'bespoking' upfront to deliver a tailored digital experience, which is then delivered through its platform. In this regard, it is similar to Impact 25 Member InforceHub.
Finally, the model is interesting because of its overt focus on the front end. Most companies described as 'insurance platforms' focus on the administration portion rather than customer engagement. This will allow DIG to remain differentiated from InsurTechs – although it does, of course, mean it needs to win against competitors such as design agencies.