DQPro: Impact 25 2019 profile
March 4, 2019
This is a summary of the profile which first appeared in the Oxbow Partners InsurTech Impact 25 2019.
DQPro provides specialty insurers with a structured and digitally-enabled approach to monitor and enhance the quality of their data.
The platform is pointed at the insurer's existing datasets and processes to look for issues, which could include general data quality (e.g. missing fields, ensuring the right risk code is used), breaches (e.g. underwriting authority threshold breaches) and compliance (e.g. sanctions breaches). Any issue is flagged to relevant users via an automated notification (normally email). Issues are detected based on rules configured by users on the client side according to their own data environment and specific circumstances.
The business currently has a library of over 200 customisable rules. By addressing these issues, DQPro allows insurers to report better data internally (e.g. reserving team) and to external users (e.g. Lloyd's, regulators, financial reporting).
The company prefers to work 'upstream' (i.e. at point of data ingestion) so that any data that then flows through the company's processes (for example into a central data lake) is already checked. Most insurers currently have manual and sometimes ad-hoc processes for data transformation, which leads to challenges on efficiency and accuracy. The company built the platform using lean development principles and currently has twelve carrier installations covering 500 users. Of these, nine carriers are in full production whilst the other three are in proof of concept stage.
"We chose Atticus DQPro because the team has a deep understanding of how a commercial specialty insurance business works, and so were able to easily integrate DQPro into our existing workflow."

Hugh Maltby, Director of Operations, Markel International
Company in action 
Data reliability is key to the overall performance of an insurance business. DQPro automatically monitors carrier data 24/7 to apply the controls they need on their data, be it underwriting, compliance or simply ensuring data quality. Specifically, DQPro allows business-side users to take control of their data checks, replacing existing and highly manual ad hoc methods with intelligent and real-time workflow, visibility and audit trails.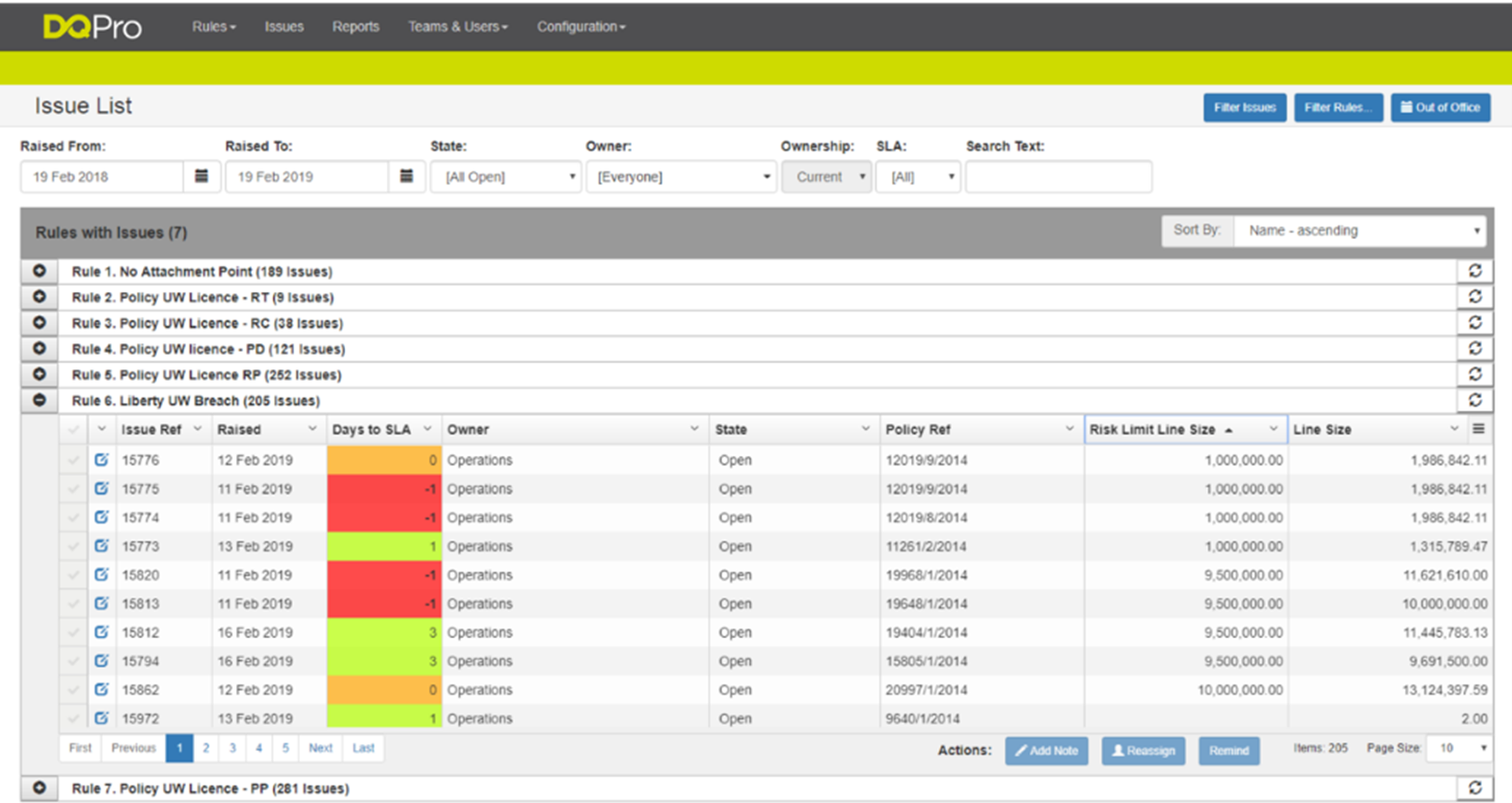 Case Study
Client situation: A major Lloyd's carrier identified significant operational cost arising from erroneous upstream data ingestion. Issues were captured and resolved using traditional exception reports, spreadsheets and email. There was no audit trail of data changes for regulatory and compliance purposes, and any audits took weeks to prepare.
What they did: The client deployed DQPro to run automatic data checks for 100 users across their global branches (in UK, US, Asia and Latin America) and core systems against specific controls tailored to their exact requirements.
What impact it had: DQPro automated the process of quickly finding, triaging and resolving data issues whilst demonstrating that each department and branch was applying risk controls effectively. By addressing data issues upstream at source, DQPro significantly reduced the downstream time (up to 65% time saving per control) and cost to the carrier's operations. It also made audit compliance easier – preparation of a particular report for a recent audit was reduced from an expected three weeks to 30 minutes.
The Oxbow Partners View
We included DQPro because we generally like InsurTech businesses that have unglamorous propositions. These businesses have generally spotted a real business challenge and are developing a useful solution. DQPro's adoption by several leading London Market carriers is evidence of its appeal.
The insurance industry is regularly described as being 'data rich', but the reality is arguably different in specialty insurance. Insurers have generally not focused on (or invested heavily in) data collection, meaning that even basic data is often held by outsource partners and not available to the carrier. Insight-rich data such as reinsurance submissions is not absorbed into systems in a structured and reusable way. Data can often be limited. This is now becoming a focus for specialty carriers, both in London and more broadly.
We see big opportunities for DQPro to be a central pillar of carriers' work to create more structured data environments.