ELEMENT: Impact 25 2019 profile
March 4, 2019
This is a summary of the profile which first appeared in the Oxbow Partners InsurTech Impact 25 2019.
ELEMENT is a 'full stack' InsurTech, meaning that it has its own regulated balance sheet. In a twist to other 'full stacks', ELEMENT sells its products through partners (both insurers and other brands) and does not distribute direct.
The proposition to insurers is that the partner can focus on its core products, customer service and sales. ELEMENT develops products to complement the core offering (both traditional and 'next generation' digital products, including pricing), and manages the technology and risk. For non-insurance partners, the proposition is the ability to sell insurance to their customer base (i.e. affinity).
ELEMENT's focus on technology ('Insurance as a Platform') allows it to develop its products quickly, including tailored propositions for specific target groups. The company currently has about fifteen partners and writes both personal and commercial lines products. One example is an insurance proposition called Versicherung09 for Borussia Dortmund fans, developed in conjunction with German insurer Signal Iduna.
The insurance product is home contents and personal liability and has some quirks like cover for Borussia shirts if they are damaged in goal celebrations. Policyholders earn 9 cents for every goal Borussia scores.
The company has also developed a flight delay insurance policy in cooperation with FairPlane and has experience developing cyber insurance and warranty extension products. It recently added Volkswagen Financial Services to its insurance client base.
"We decided to partner up with ELEMENT so that we could develop these innovative on-demand products in record speed"

Ulrich Bollmann, Volkswagen Financial Services
Company in action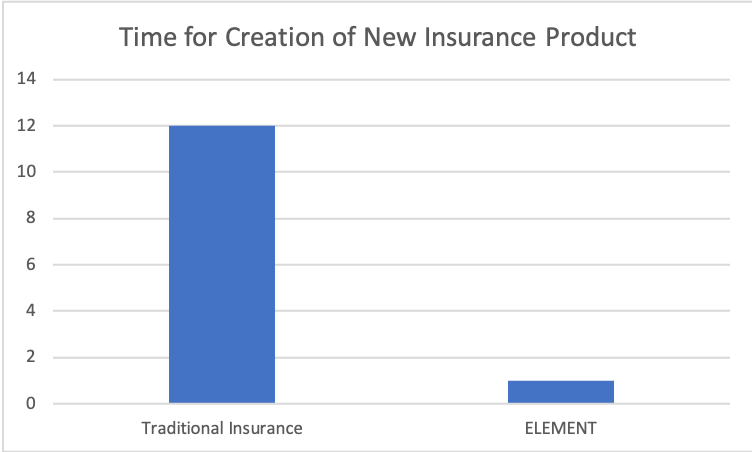 Case Study
Client situation: Car insurance is generally not set up to provide short-term adjustments, making things like lending a car to an acquaintance or facilitating test drives difficult to arrange.
What they did: Together with Volkswagen Financial Services, ELEMENT created flexible short-term insurances, expanding the existing car insurance by covering possible excesses, increased premiums and other cost-related damages.
What impact it had: Customers are now able to safely share their cars with friends, offer test drives or rent cars without risking financial loss.
The Oxbow Partners View
We have regularly written about affinity on our blog. We see opportunities in all geographies to deliver more integrated digital propositions. ELEMENT has more flexibility than most (e.g. brokers or MGAs) given that it has its own balance sheet. That means that it can offer highly customised products like the cover extensions on its policy for Borussia Dortmund fans without relying on a third party. We think this will be a huge bonus in the market.
Interestingly, ELEMENT's most similar competitor is Swiss Re. The reinsurer launched iptiQ in 2014, initially focused on life and health, but now extending into P&C. The idea was to allow insurers to broaden their product offering, for example giving motor insurers the ability to sell simple life insurance products. Time will tell the relative importance of the corporate infrastructure and balance sheet versus a nimble, digital startups.