Energetic Insurance: Impact 25 2020 profile
March 11, 2020
This is a summary of the profile which first appeared in the Oxbow Partners InsurTech Impact 25: 2020
Energetic Insurance is a Managing General Underwriter ('MGU') focused on the renewable energy sector.
Its initial product is a first-of-its-kind credit insurance policy covering payment default risk on commercial solar energy projects.
The idea for Energetic was born during the co-founders' experiences of working in the renewable energy sector. Large corporations with public credit ratings can access project finance relatively easily whilst smaller businesses (especially those without a public credit rating) and municipalities have found it very challenging. Energetic's product addresses this problem by covering the payment default risk on long-term power purchase agreements. The policy term can be up to 10 years with a minimum solar project value of $500,000.
SCOR Global P&C is providing capacity to Energetic and thus gives financiers comfort that obligations will be met.
Energetic has developed a data-driven approach to underwriting and pricing this risk by analysing correlated data sets.
Energetic has raised $4.4m in funding from both venture funds and multiple grant awards from US state and federal sources including $800k from the US Department of Energy, Solar Energy Technologies Office ('SETO').
"EneRate Credit Cover is the solution we have been waiting for that can unlock our ability to gain comfort with the predictability of cashflows on the smaller commercial solar deals. Along with experienced developers like CalCom, the tool kit is complete such that we can now increase our solar lending focus in the small and medium business segment."

Jordan Blanchard, Head of Energy and Infrastructure Lending, Live Oak Bank
Company in action
Energetic Insurance's commercial hypothesis is that electricity is one of the 'stickiest' expenses that firms incur. This means that revenue generated by solar energy projects (Energetic's policyholders) is also 'sticky', mitigating the payment default risk. The company is continuously collecting and analysing public and proprietary data sets to test and monitor this hypothesis.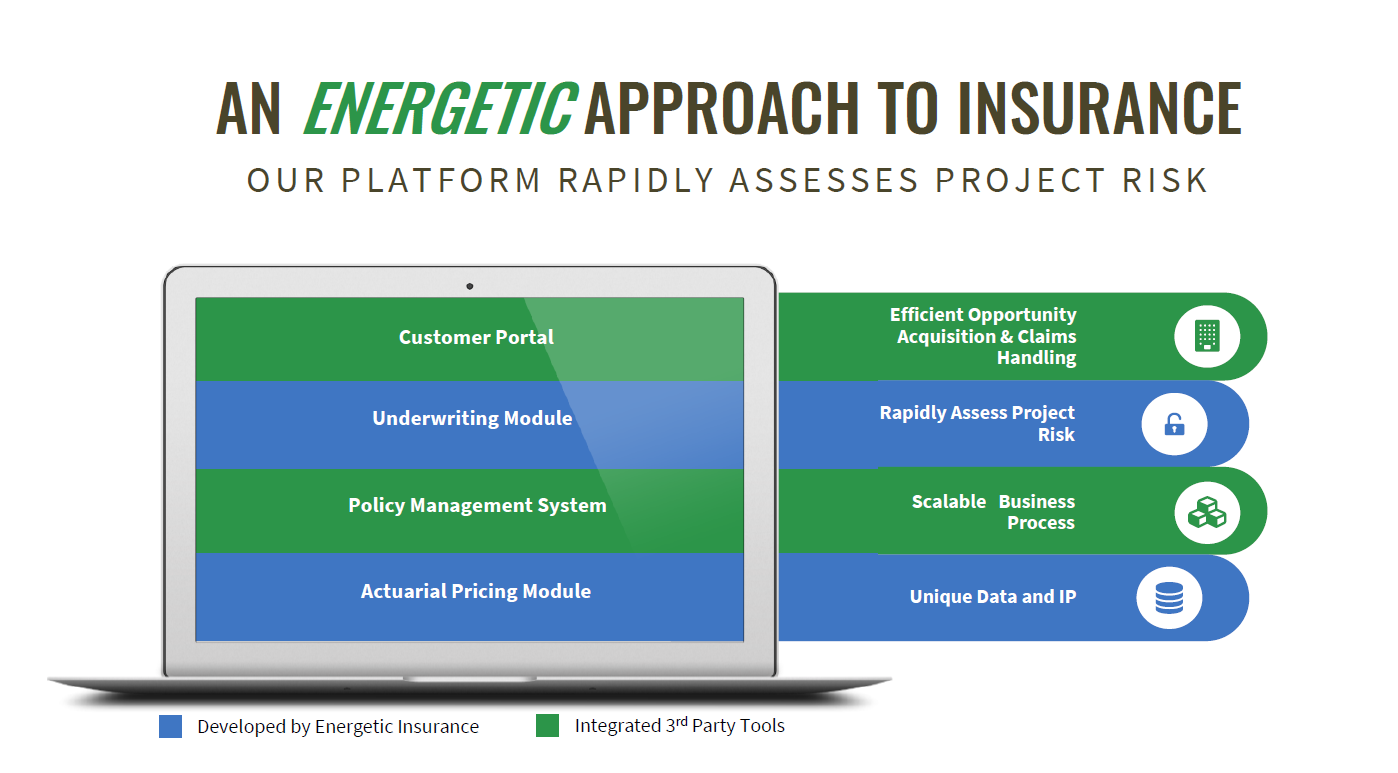 Case Study
Client situation: CalCom is an experienced solar project developer. They installed a solar project on a large outlet mall that wanted to install solar panels using long term debt financing, but the mall owner didn't have a public credit rating.
Solution: Energetic applied its underwriting and actuarial technology to underwrite the solar project looking at both the business credit risk and the unique electricity market environment at the property. This enabled Energetic to calculate a different probability of default and loss given default than a regular credit analysis.
Results: The project developer spent six unsuccessful months searching for a debt lender willing to lend to this outlet mall. Using the EneRate Credit Cover, the transaction could be financed and closed within a few weeks.
The Oxbow Partner View
We chose Energetic Insurance because it demonstrates how InsurTech can be the missing link between risk and risk capital.
The business model is too niche and perhaps too technical for most insurers to develop it themselves, but the business case is attractive for a startup and its capacity providers.
Looking at it another way, Energetic Insurance is one of several companies pushing the historic limits of insurability. Our favourite insurance joke is that underwriters love a new product so long as they can see five years of claims history. In the absence of such data, InsurTechs are having to study exposure to derive hypotheses about future insurance loss experience. Another example of an InsurTech doing this is Impact 25 2018 Member Flock, which has built an exposure and risk pricing model for drone insurance.
The prize for these companies is clear; for Energetic there are no competing insurance products and few alternatives to debt for project sponsors.
We are not surprised to hear that its pipeline of stand-alone solar projects and portfolios of existing and planned solar projects looks very promising.