Enterprise Bot: Impact 25 2020 profile
March 11, 2020
This is a summary of the profile which first appeared in the Oxbow Partners InsurTech Impact 25: 2020
Enterprise Bot creates AI-powered multilingual chat-, email- and voice-bots that automate customer interactions and deliver productivity improvements.
The company is based in Switzerland with a technology unit in India.
Unusually for a startup, Enterprise Bot is already profitable and has grown without significant external investment.
The three co-founders launched Enterprise Bot in 2016 via Startupbootcamp London after previously establishing a B2C AI chatbot for messenger apps in India. The technology from this startup has been repurposed and the business model refocused to B2B.
To date, Enterprise Bot has deployed its chatbot with insurers in Switzerland and France, ecommerce companies in the Netherlands and Switzerland, and a UK rail company. The benefits have included improved productivity (e.g. decreased throughput times) and improved Net Promoter Scores (e.g. 24/7 customer service for standard issues).
Enterprise Bot's solutions uses a variety of tools including Machine Learning, NLP and Sentiment Analysis. It also integrates with Robotic process automation systems like UI Path.
These capabilities coupled with industry specific datasets, a fully trained solution capable of automating process rather than just answering FAQ's, enterprise grade security and agility make Enterprise Bot different from competitors and allows them to go live with production use cases in under 3 months.
"Enterprise Bot deployed a complete on-premise solution in just 3 months for us. Their platform is fast, simple and delivered over 40% of automation within the first month of go live."

Martin Frick, COO, Generali Switzerland
Company in action
Enterprise Bot enables clients to add a new digital interaction tool to instantly answer customer queries across a variety of communication platforms such as emails, messenger apps, contact forms, smart devices and virtual assistants. Enterprise Bot is available 24/7, multilingual, and quick at identifying and proactively addressing trending or recurring issues.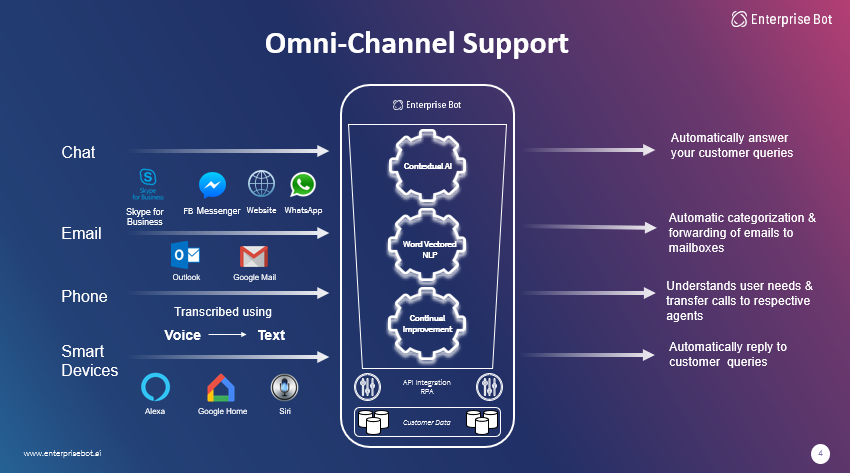 Case Study
Client situation: Generali Switzerland receives emails in several languages. Manual email triage was time-consuming and relatively expensive considering that qualified staff were simply redirecting emails. Generali wanted to explore
how chatbots could be used to automate the flow of emails to the correct departments, thereby delivering productivity improvements and freeing up staff to address complex issues.
Solution: Enterprise Bot designed an on-premise email bot integration with Outlook servers. The solution triages emails in German and French, analyses email content via AI and generates a sentiment analysis of it, and automatically forwards it to the correct department.
Results: Within three months of beginning the implementation, over 85% of emails were classified and triaged accurately. There has been a 40% reduction in L1 support for email triaging and it takes 1-2 seconds for emails to reach the correct department 24/7. This project's success led to a similar project with Generali France.
The Oxbow Partners View
There is a competitive market for chatbots, but Enterprise Bot stands out. It has quickly delivered tangible results across industries and geographies and its success with Generali Switzerland opened the door to Generali France. Its Indian technology unit enables it to invest in R&D at relatively low cost and allows it to recruit experienced technology staff – a recurring challenge we have heard throughout our Impact 25 research.
Many insurers operate customer service units that are difficult to scale without the recruitment of human staff. Some insurers have outsourced and offshored these units with varying results; the trend for the 2020s will surely be re-shoring through the use of smart data solutions. Enterprise Bot is therefore well positioned.
However, the challenge is likely to be management attention.
Another recurring theme we hear in the market is the fact that corporate resources are stretched; any project must be high impact to be worthwhile. Enterprise Bot will therefore need to find enough high-volume use cases which – crucially – can be automated to ensure that they are on management's priority list.