Floodflash: Impact 25 2019 profile
March 4, 2019
This is a summary of the profile which first appeared in the Oxbow Partners InsurTech Impact 25 2019.
FloodFlash's parametric insurance, currently targeting SMEs, removes underwriting uncertainties such as building vulnerability and contents value from risk cost, and eliminates many loss adjustment costs. This reduces volatility and operational costs for carriers and makes insurance more affordable for customers even in highest risk areas.
The company generates quotes based on the trigger depth of any flooding and pay-out value selected by customers. Once a policy is issued, the FloodFlash team installs water sensors at the insured property within 2 weeks. The sensors are tamper-resistant, have self-contained power, and use their in-built communications capability to provide real-time data to FloodFlash. In the event of a flood, policyholders automatically receive the pre-agreed claims payment within a few days. Given that claims payments are all cash, business owners can prioritise which aspects of the flood-related damage they want to address first.
FloodFlash recently completed a successful paid pilot with a group of UK-based SMEs, providing them with flood insurance cover despite their location in high-risk flood areas. FloodFlash is a coverholder at Lloyd's of London with delegated underwriting authority.
"We are excited to play a part in the launch of this new customised solution to help alleviate the significant flood risk that so many continue to contend with around the world."

Sam Geddes, Everest Insurance
Company in action
The FloodFlash portal provides an instant quote-and-bind facility for retail brokers.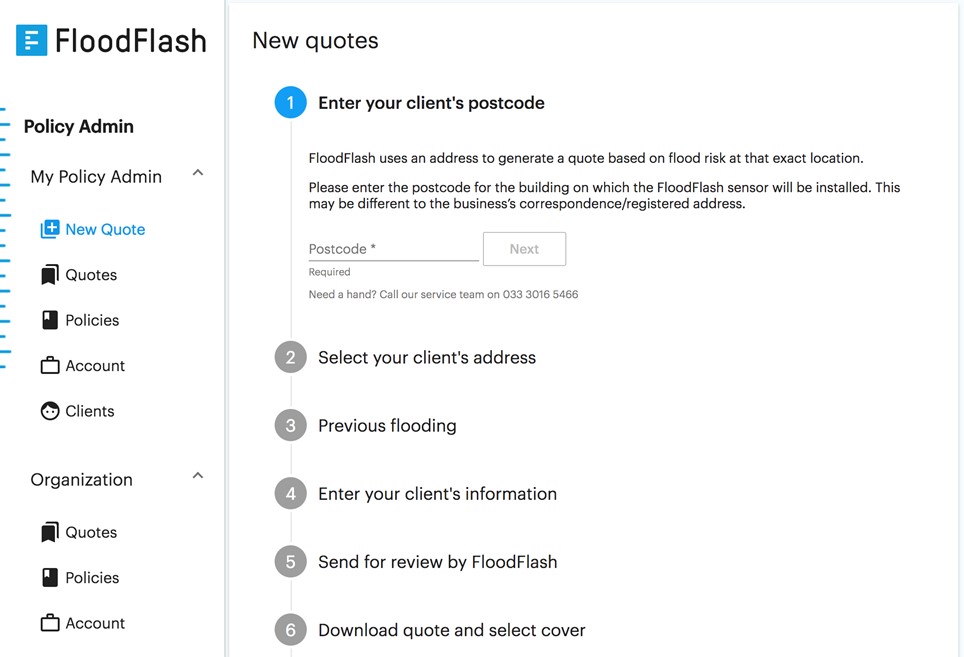 Case Study
Client situation: A retail broker was unable to provide a solution to their clients after multiple underwriters refused to offer flood cover.
What they did: The retail broker issued FloodFlash policies to their clients, working with them to set depth and settlement amounts at an affordable premium.
What impact it had: The retail broker's clients are now protected with transparent, objective parametric policies.
The Oxbow Partners View
The data revolution is making it much easier to create products with digital triggers. These products could be either parametric or traditional (i.e. indemnity). We see considerable opportunities for parametric offerings as there is value in the certainty of rapid, fixed settlements for customers (although this must be balanced with the risk of mismatch to the loss).
It is also interesting to note that FloodFlash does not need a claims department as settlements are fixed and losses do not need to be physically validated (beyond fraud). This is another example of how product innovation could lead to value chain compression as digital platforms connect distribution directly to capital (reinsurers) with no need for the traditional capabilities of primary insurers.