Groundspeed: Impact 25 2020 profile
March 11, 2020
This is a summary of the profile which first appeared in the Oxbow Partners InsurTech Impact 25: 2020.
Groundspeed helps insurers, MGAs and brokers generate insight from semi-structured and unstructured data files such as claims history, exposure schedules and policy documents. Its technology reads, annotates and enriches data from these unstructured sources and presents users with actionable information.
Groundspeed has designed and delivered a wide range of use cases using its Adaptive Data Pipeline platform.
For example, Aon partnered with Groundspeed to harvest 170 million data points from thousands of insurance documents using optical character recognition, computer vision, machine learning and natural language processing. The output was structured and exported to Aon's central analytics repository. Aon deepened its understanding of client risks, created new risk transfer solutions, and supported clients to expand coverage and reduce premiums.
Its technology also enables commercial carriers to deliver a frictionless underwriting process by automatically capturing submission data for clearance, triage, rating and data completion. These frictionless underwriting, and e-broking solutions have improved accuracy, reduced submission throughout time, reduced underwriting costs, and enabled underwriters to focus on new business and client retention activities.
Groundspeed's Series B fundraise has enabled it to convert bespoke client projects into a systematic and repeatable operational infrastructure that is leading to multi-year SaaS contracts.
The company has been largely US focused to date, but the problems it is addressing are common across all geographies and business lines.
"Groundspeed's AI capabilities will optimise productivity for both our underwriters and our agent and broker partners. We are pleased to be working with the Groundspeed team."

Bill Devine, Senior Vice President, Business Insurance, Travelers
Company in action
Groundspeed's technology can be applied to numerous unstructured data challenges. For example, an insurance carrier automated loss and exposure data capture for its new business and renewal quoting processes. The carrier saved $1.5m by eliminating 54 offshore resources. This also generated underwriting improvements of $3.4m p.a.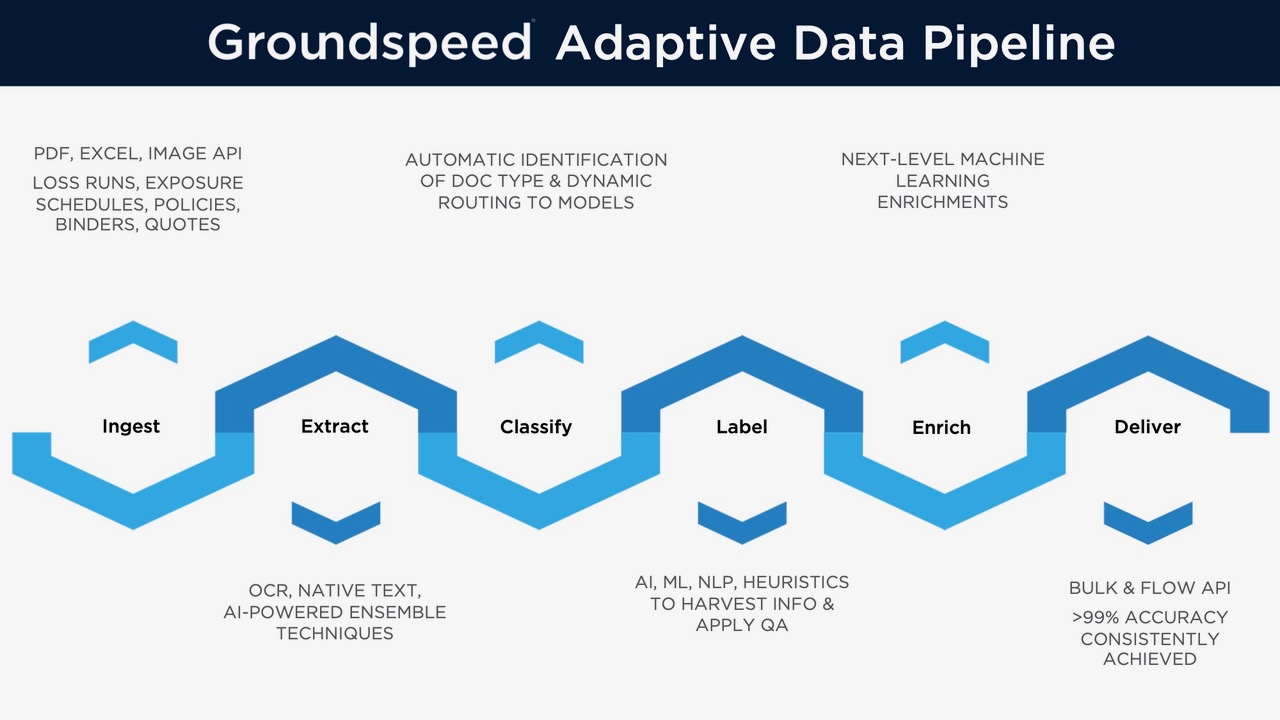 Case Study
Client situation: USI Insurance Services is a large insurance broker with over 7,000 staff. It targeted two prospective commercial clients who were using a competing broker. Client data was trapped in almost 1,000 documents such as claims history and documentation, exposure schedules and policy documentation, making it hard to present alternative solutions.
Solution: USI used Groundspeed's technology to generate a comprehensive view of the prospect's risk transfer solution and delivered over 200,000 data points from documents spanning 72 locations, 300 policies, 10 different carriers, and almost $200m in total incurred losses. This included ground-up loss costs, exposure basis, policy limits and sub-limits, deductibles and retentions.
Results: USI applied Groundspeed's analytics to construct a risk transfer alternative that improved coverages and saved the clients over $2m. This was a win-win as USI earned more than $2m in new business revenue from this transaction.
The Oxbow Partners View
Groundspeed describes its work as "the rocket fuel for many data and analytics opportunities." It is a bold statement, but Groundspeed backed up this claim during the Impact 25 research by sharing several more use cases not presented in this profile.
Aon is Groundspeed's largest client and has been an important catalyst for growth. It is notable that Aon has publicly promoted its collaboration with Groundspeed. Travelers expects to emulate this success with Groundspeed in 2020 by using AI to streamline its commercial P&C new business and renewals processes.
Many data and analytics InsurTechs face challenges converting one-off Proofs of Concepts and projects into recurring engagements. This occurs when insurers and brokers attempt to use the knowledge gained during these projects to build in-house solutions.
However, we see many (re)insurers struggling with this approach due to the scarcity of data scientists. These resources are more likely to join technology companies such as Groundspeed as they provide greater learning opportunities across multiple clients.