Bitesize InsurTech: Inforcehub
October 24, 2019
Inforcehub applies advanced analytics to help incumbents re-engage with existing customers.
We spoke to co-founders Matt Gosden and Michel Abbink to catch-up on progress since we included them in our InsurTech Impact 25 2019.
Oxbow Partners: Can you remind our readers what inforcehub does?
MG/MA: inforcehub helps incumbents engage with existing customers. Our solution helps identify customers who should be targeted, and gives front-line staff prompts and suggestions about actions to take. For example, we can identify where a customer's product is maturing soon and prompt an agent to encourage the transfer of funds to a new product. Apart from preventing lapses, we can also help on things like cross-sell or simple process points like supporting agents in the claims journey.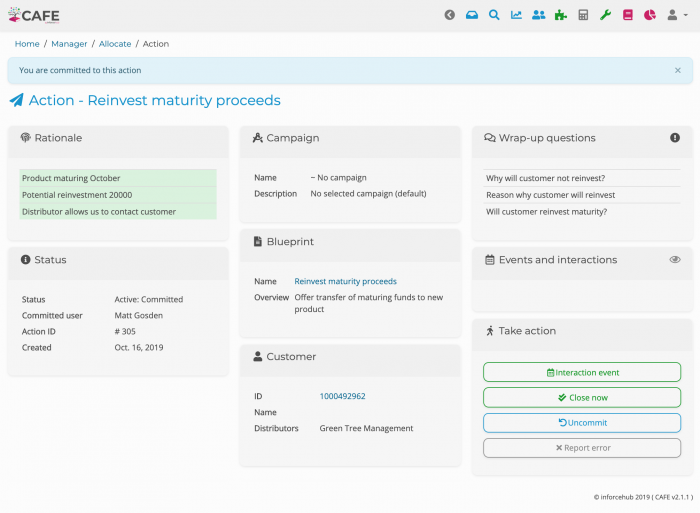 You talk about your solution as 'IA' rather than AI, what do you mean by this?
IA stands for Intelligence Augmentation. We use IA to describe our solution because we aim to empower insurance staff and distributors to have better and more productive interactions with their customers through prompts such as 'speak to X person at Y time about Z.' Though we do this through machine learning, which is a subset of AI, we are a bit different to many other InsurTechs in the sense that we are not focused on replacing humans from the process. We believe humans will be part of many insurance sales and service journeys for some time yet, but our technology makes them more efficient, and actually happier in their jobs as they have better data to work from.
Tell us about the technology underlying inforcehub
Our core technology engine is called CAFE. At the centre of CAFE's functionality is action workflow – analytics that work out what needs to be pushed to what customer and at what time. CAFE has front-end API capabilities that allow clients to integrate their own CRM systems, like Salesforce, with the platform.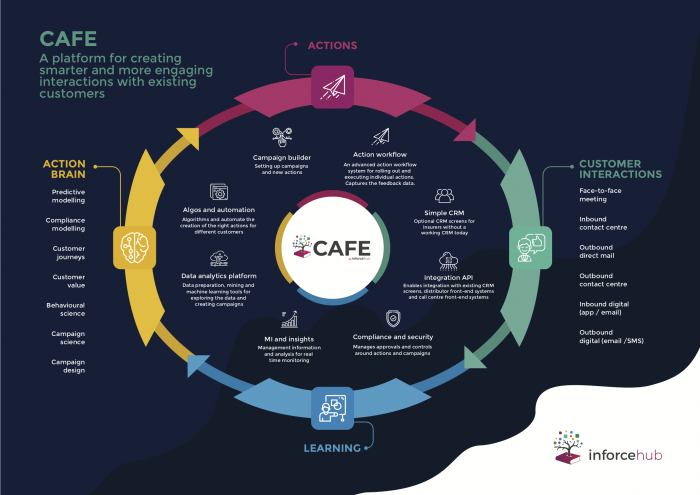 CAFE also has MI and reporting capabilities to enable campaign tracking.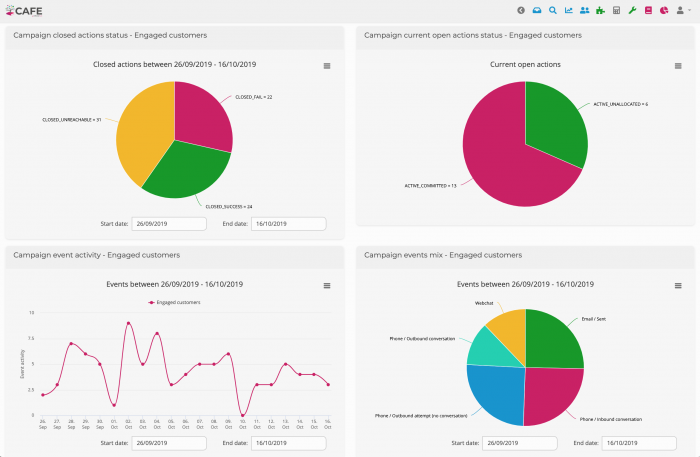 What new developments are you working on at inforcehub?
We have recently been focused on bringing more behavioural science into our solution and have teamed up with a behavioural science specialist company to answer questions like how you can best reach out to and 'nudge' the customer. During the past six months we have also focused on automation, for example if campaigns work well, we aim to automate them in the back-end of CAFE.
Who do you work with and what's your approach to working with incumbents?
We work mostly with insurers on the life and pensions side; around 90% of our work is with companies working in these business lines. However our technology is applicable across the industry and we work also with composites. As we scale we are looking increasingly towards the P&C market. In terms of working with incumbents, we work in partnerships. Though our clients own their distribution and we would never be making actual calls to their customers, we work closely together to design campaigns and support campaign execution too.
What are the benefits of inforcehub to its clients?
Most insurers recognise that low customer engagement is a problem and not currently being addressed. There are competitors out there, including the likes of IBM technology, Adobe campaign, and Salesforce's Einstein engine, however these solutions often build their AI on top of the data in the CRM system meaning that the level of data accessed is not very deep. These solutions are also not insurance specific, meaning they don't optimise their AI for insurance types of data. In contrast, our solution is both industry-specific and has a much deeper use of data as we go back to the core system data at the insurer (CRM data is very patchy at most insurers today anyway) to give our machine learning algorithms a lot more data to learn from. Moreover, our technology is proven to work: our campaign work to date has been 5-15x more successful than insurers' existing approaches. 
Our solution thus has three key benefits for insurers. It is a revenue driver (for renewals and cross-sell), a cost saving mechanism (human resource is a large part of the cost base for incumbents so helping them use people efficiently is critical to our success), and a means by which to boost customer engagement and support better customer outcomes.