Insly: Impact 25 2019 profile
March 5, 2019
This is a summary of the profile which first appeared in the Oxbow Partners InsurTech Impact 25 2019.
Insly is a 'next generation' policy admin system.
The business provides a Software-as-a-Service (SaaS) digital distribution and insurance management system targeted at MGAs, brokers and agents. The system is designed to facilitate a high degree of automation in the back office including the ingestion of third-party data (to reduce manual data entry), automated rating, underwriting criteria, document generation and payments.
Insly has made significant progress over the last few years and have 500 clients on board working across most major lines of general insurance.
Unlike more traditional insurance technology vendors, Insly is very open about its system. For example, clients are able to sign up for a free version to 'play around' with the platform even before any contracts or NDAs are signed.
The Insly system also has a full set of APIs, the documentation for which is available publicly from any trial account. This API based approach means Insly is designed to be integrated into a client's existing IT estate, for example an existing claims system, distribution portal or data warehouse.
"We chose to work with Insly because we wanted to a have a cloud solution that is tailored to our specific business processes and functional requirements."

Kevin Kettrick, Cyber Underwriting, Ptarmigan
Company in action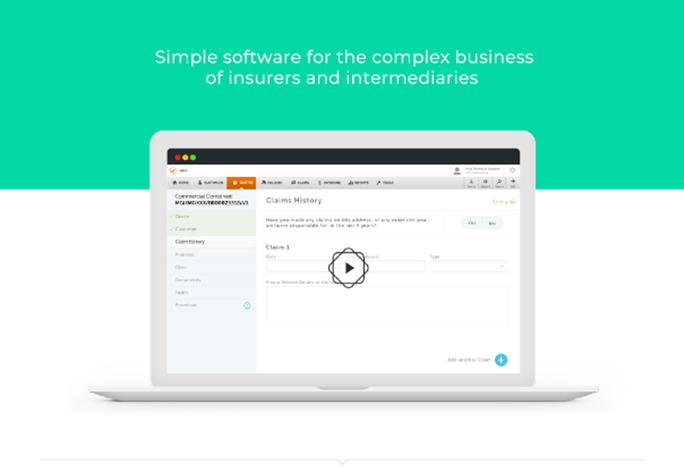 Case Study
Client situation: Warranty Insurance, an MGA, wanted to launch an innovative B2C insurance product for a leading electronics retailer, dealer and manufacturer. The goal was to create an extended warranty insurance product coupled with a tech platform to efficiently handle the sales and administration.
What they did: After selecting Insly as their partner, Insly and Warranty set about building the tech platform, which included two main elements: a policy administration system for Warranty where all the data would be hosted and a white-labelled front end for the retailers. The solution needed to simplify the sales process for the in-store sales teams. Using Insly's platform, insurance cover could quickly be added to any household appliance sold and, upon concluding the sale, policy details were created in the Insly back-office system.
What impact it had: The solution was successfully deployed to the first major distribution partner and subsequent white-labelled versions have since been provided to other Warranty retail partners.
The Oxbow Partners View
Market entry for new platforms is challenging. Clients rarely want to hand over business-critical processing to a vendor without seeing references – meaning companies need clients to get clients. Nonetheless, few other 'next generation' insurance system vendors have made such inroads in such a short timeframe. Insly have built a well architected platform and are generating real business with MGAs and brokers.
Insly have a good mix of clients, including increasingly well-known names. The added benefit of this scale is experience with connectivity to other capabilities (e.g. third-party rating engines, external data sources, claims and finance systems). This allows clients to be confident that Insly knows how to integrate into their technology 'ecosystem', often a significant cost and effort in any system implementation.
The task for Insly now is to develop functionality to cover more of the value-chain and be able to support larger clients with more complex and nuanced needs. This will allow them confidently take on the large incumbent players.