Konsileo: Impact 25 2020 profile
March 11, 2020
This is a summary of the profile which first appeared in the Oxbow Partners InsurTech Impact 25: 2020.
Konsileo is a UK commercial insurance broker that uses technology to deliver a better client proposition.
The company's system is a proprietary platform, originally designed to power a decentralised franchise-like model. The business has 'pivoted' a little over the last few years and now trades as a broker in its own right, with a nationwide network of Risk Advisers. This pivot to broking business appears to be paying off as the team has grown in 2019 to 36 and GWP has exceeded £3m.
The technology platform uses publicly available data to populate client fact finds in advance of initial and renewal meetings. This enables advisers to minimise the administrative aspects of these meetings and focus on clients' risk management and insurance needs. The platform also uses robotic process automation to eliminate low-value manual tasks. The company's RISKUBE® module allows clients to access every piece of information and documentation regarding their insurance coverage. The technology roadmap includes the development of a knowledge database that will contain customised 'predict and prevent' information and tools to help clients proactively manage their risks. The platform is also being used by Clear Insurance Management, a large independent broker writing £150m GWP.
Konsileo has no intention to become a broking system provider but has agreed a few partnerships to 'stress test' the system, whilst also giving partners access to its advanced system.
"Konsileo's technology vision, blending data with advice, represents the future of mid-market broking. In addition, their approach is rigorous, professional and straightforward."

Howard Lickens, CEO, Clear Insurance Management Ltd.
Company in action
Konsileo has a clear technology roadmap that will continue using data and technology to enable its Risk Advisers strengthen the customised service they provide to their clients.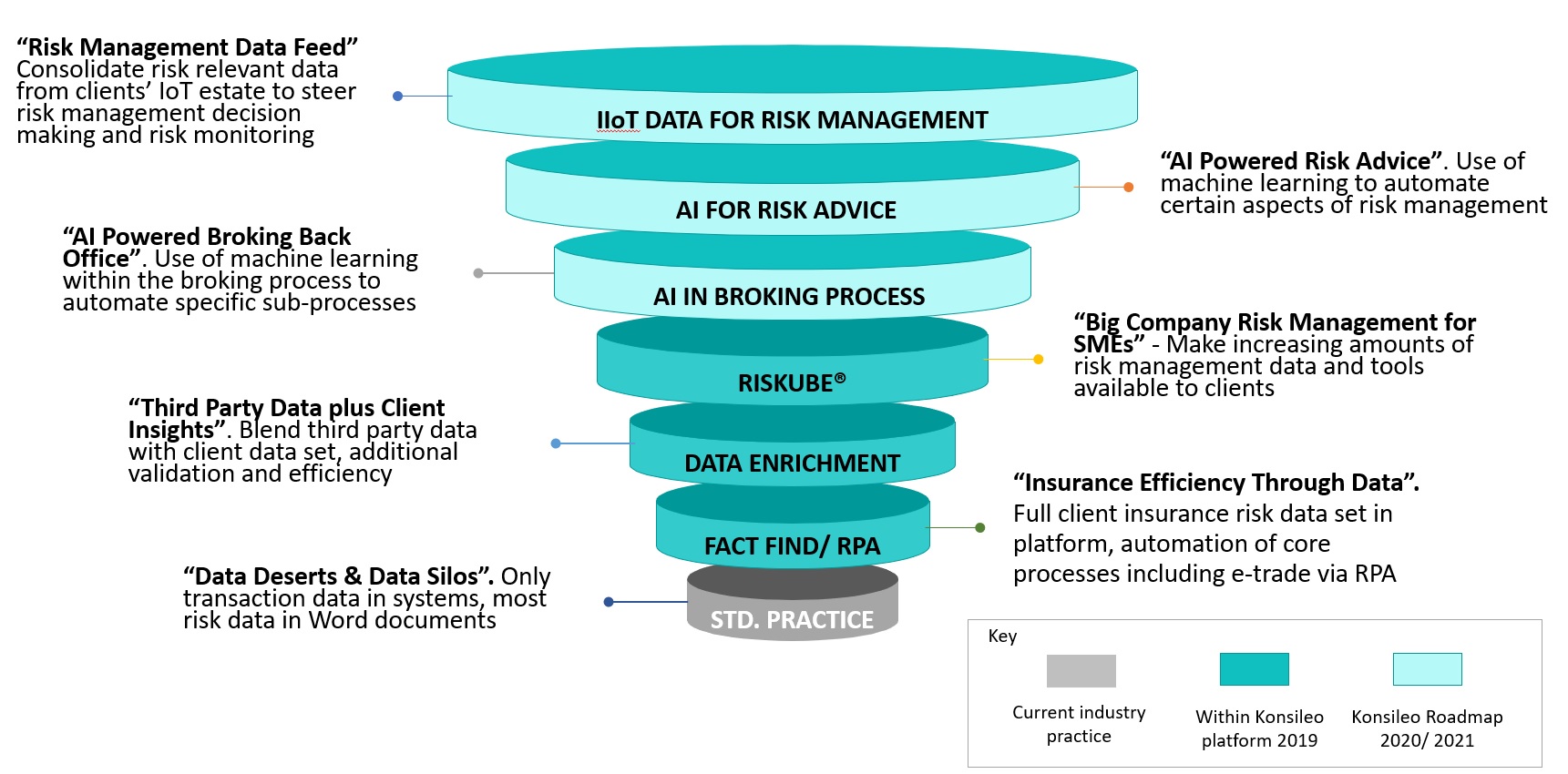 Case Study
Client situation: Broking firms have failed to use data and technology to innovate their client propositions sufficiently. Many of the legacy broking platforms still require advisers to key in excessive amounts of data, impacting their ability to provide a customised and value-adding service.
Solution: Konsileo has created a virtualised broking organisation with up to 60% efficiency savings for many of its advisers.
The platform enables advisers to design and deliver a data-led risk advice and management experience for their clients.
The platform also provides insurers with a deeper understanding of their clients' risk exposures and the proactive steps clients regularly take to identify, assess, control and review these risks.
Results: Konsileo has attracted 25 Risk Advisers to date, increased its clients from 200 to 1,400 over the past twelve months. It placed £800k of premium in Q3 2019 v. £140k a year earlier.
The Oxbow Partners View
We have been tracking Konsileo for some time as we liked its original 'franchise' broking model.
Although the company has now repositioned to be a broker, the thinking still holds true: build a technology platform with robust processes that both enable brokers to be more effective (and therefore happier) than in their old organisations, and ensure compliance with regulatory requirements.
We are happy to see the signs of impact in 2019. The strategy is robust in our view. Most UK broking businesses remain technology laggards, relying on the large 'software houses' to trade. These systems do not, on the whole, give them much control over proposition or execution.
We agree with the company's counterintuitive thesis that the B2B opportunity is unlikely to be attractive. Whilst there is clearly a requirement for these brokers to digitise, there are strong network effects that favour the established platforms. For example, insurers have invested in building products there, new recruits are likely to be familiar with them, and the major consolidators are all using them. It could destroy value to move away from them.
Instead, the opportunity for Konsileo could be to build initial volume and then to become the tech-enabled consolidator – not dissimilar to 2018 Impact 25 Member wefox.
The prize is significant – tech-driven broker Simply Business was acquired for 50x EBITDA by Travelers in 2017.