Kryon: Impact 25 2018 profile
March 10, 2018
This is a summary of the profile which first appeared in the Oxbow Partners InsurTech Impact 25: 2018.
Kryon's technology is used to optimize claims processing to increase efficiency and accuracy.
It offers three products:
Kryon Unattended Robots automates high volume, repetitive, time-consuming insurance processes
Kryon Attended Robots runs on user desktops, executing tasks on user demand and/or monitoring user actions and triggering automation processes automatically
Kryon Hybrid Automation allows humans and robots to work efficiently together, automating business processes end-to-end
The platform enables improved governance and regulatory compliance by producing a detailed log of automate.
"Kryon's solution stands apart for its user-friendly, ft-for-purpose platforms, including its simplified visual recognition approach to automation. Coupled with its professional service support, Kryon has proved to be a valued partner in establishing an RPA framework that is strong and self-sustaining.

Na-il Han, Head of Finance Transformation, Allianz SE Singapore
Impact
The system has helped clients reduce process errors to almost 0, reduce labour costs (1 robot = 3 to 5 FTE) and expedite efficiency (e.g. claims payment processing reduced from 1.5 hours to 20 minutes)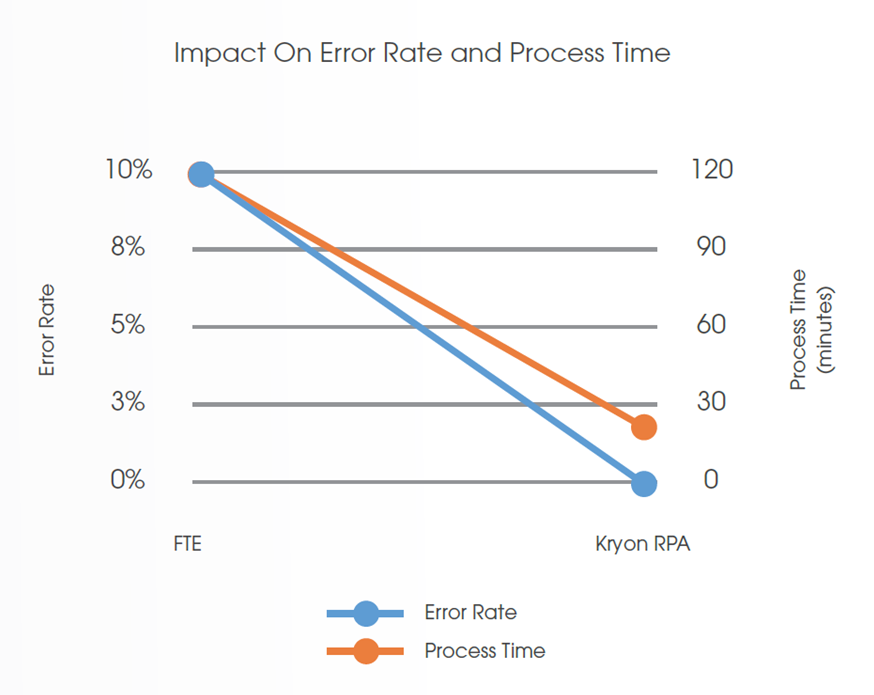 Case Study 
Client situation: A large insurer needed to reconcile its customers' premium payments with bank statements, and then enter approved payments in the ERP system on a daily basis. Manually this process took 1½ to 2 hours per customer to execute.
What they did: Kryon implemented their RPA platform to reconcile the Excel fles with the bank statements, verify/approve payments and then enter the information in the ERP system.
Impact: Using Kryon robots each payments is now processed in 20 minutes saving thousands of FTE hours per year. Automating the process also eliminated process errors.
The Oxbow Partners View
Traction: Kryon has been implemented with multiple blue-chip insurance and non-insurance clients. Initial pilots suggesting dramatic decreases in error rates and higher efficiency look promising.
Potential: We believe that the effectiveness of Kryon's technology has been proven. With an investment from Aquiline Technology Growth, the VC fund of one of the world's best connected insurance-focused PE funds, we see potential to scale significantly in 2018.
The 2018 challenge: Kryon's technology is proven and it now has investment to help growth the business. The challenge will be finding enough insurers willing to deploy the technology at scale.