Laka: Impact 25 2019 profile
March 4, 2019
This is a summary of the profile which first appeared in the Oxbow Partners InsurTech Impact 25 2019.
Laka's proposition to customers is simple: if there are no claims in a month, your premium is zero at the end of the month. If there are claims, however, you pay your share, up to a cap which is set at around the market price in the UK. The credit risk on defaulting customers is taken by Zurich, as is the cost of excess losses that the pool cannot sustain.
Laka's first product is insurance for high value bikes in the UK. This has allowed the firm to test its hypotheses; first, that people will take better care of their possessions if they can see a direct link to their insurance premium (Laka's monthly statements lay out clearly how the share is calculated), and second that customers will pay premiums retrospectively. These hypotheses have been true so far – there have been no credit defaults, nor has Zurich's excess policy been triggered to date. The next challenge will be to extend the proposition into new groups.
The company will next target 'lifestyle affinities' like water sports, golf and fishing, where physical property can be insured within the community. In 2018, Laka agreed a partnership with Malaysian insurer Tune Protect Group. Laka's proposition complies with Takaful (Islamic Insurance) principles, which positions it as a compelling proposition for countries with large Muslim populations. This partnership is in line with Tune Protect Group's plans to become the leading digital insurer in the region, supported by its affiliate AirAsia, Asia's leading low cost carrier.
"Insurance is going to change. Like AirAsia, I feel that Laka is the future."

Tony Fernandes, Group CEO of AirAsia
Company in action 
On average, Laka charged 35% of the customer's cap in 2018. Even excluding the first quarter, Laka achieved a respectable 47% of the personal cap.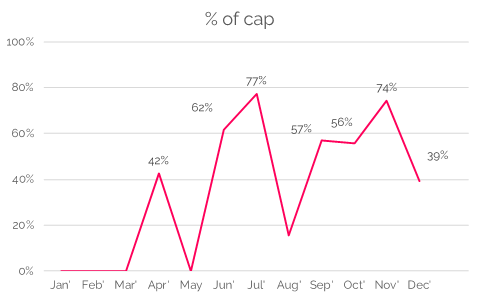 Case Study
Client situation: Zurich wanted to explore opportunities to innovate in the value chain and identified Laka as an interesting partner.
What they did: Zurich partnered with Laka to provide 'working capital' that allows Laka to settle claims swiftly before its monthly premiums are received. Zurich also acts as a reinsurer providing the stop loss arrangement that limits each individual customer's maximum premium to the price of conventional cover.
What impact it had: The partnership with Laka allowed Zurich to identify and remove hurdles in working with startups and to enhance their speed to market significantly. In addition, Laka's business model allows Zurich to earn fee-based revenues from stop loss and working capital products in line with conventional return on risk capital (RORC) requirements.
The Oxbow Partners View
We think that Laka's simple proposition will resonate with customers: a premium that is directly linked to losses and is capped at the market rate. The company is arguably the first that has made peer-to-peer insurance work. We think Laka's strategy to provide its technology to insurers could be the real game-changer. The challenge for many Distribution InsurTechs, particularly those with innovative propositions, is the speed of growth in a lethargic market; partnering with incumbents would provide access to a customer base.
For corporates there is an opportunity to provide an innovative affinity proposition, for example a 'digital mutual' scheme for churches or a football club. And that's quite apart from the huge Takaful opportunity. Insurance penetration in the Islamic community lags Europe not least because of the difficulty of creating compliant products. With Laka's proposition there is a huge opportunity in Malaysia, where it has a local partner, or indeed in neighbouring Indonesia with its 260m population.