McKenzie Intelligence: Impact 25 2019 profile
March 5, 2019
This is a summary of the profile which first appeared in the Oxbow Partners InsurTech Impact 25 2019.
As natural catastrophes unfold, intelligence is sparse. MIS obtains information from a variety of sources (satellites, IoT, open source, etc.), identifies and quantifies scenarios, and then disseminates high quality actionable intelligence to insurers, governments, NGOs and others.
Historically, underwriters have not had data to assign adjusters to the most important sites, forcing them to rely on backwards-looking loss estimation models. This has inflated opex and led to inaccurate financial estimates and poor customer experience.
MIS aims to provide data and analysis to exposure and claims teams within 24 hours and 72 hours respectively. This allows insurers to understand how natural catastrophes are unfolding in near real-time, allowing them to direct their resources more optimally and estimate costs more accurately.
MIS worked alongside Lloyd's managing agents and an extensive network of TPAs in North America during recent natural catastrophes. In the case of Hurricane Florence, MIS used data from flood sensors, collecting IoT data in real time to build a detailed timeline for the reinsurance claims community. During Hurricane Michael, MIS delivered zip code fidelity reports to exposure managers and individual property assessments to claims teams within 24 hours. MIS is an InsurTech founded by former military intelligence personnel.
"Via the use of timely, automated ground intelligence and space satellite imagery, MIS-Intel marks a new departure in claims solutions."

John Eves CILA, Judge, British Claims Awards 2018
Company in action
MIS-Intel connects operatives on the ground with office workers, permitting exposure and claims decisions to be executed quickly. For example, MIS provided market-wide assessments for 4,500 homes affected by Hurricane Michael and 10,300 homes affected by the California wildfires.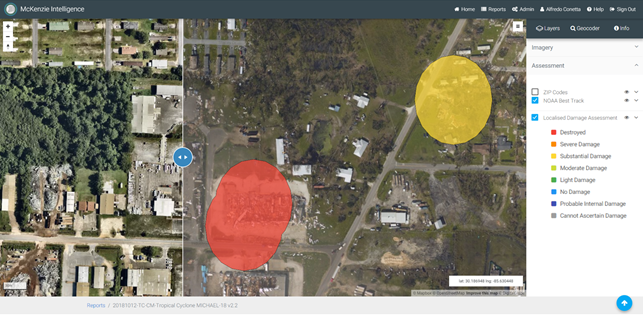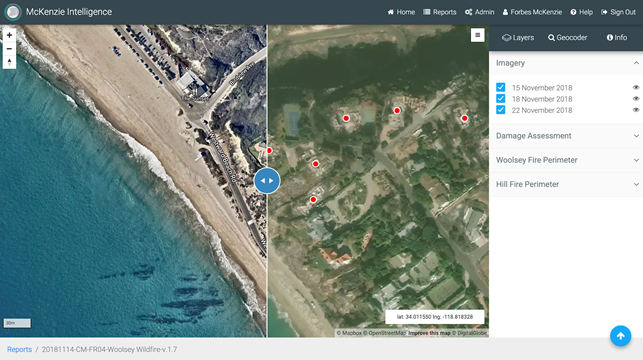 Case study
Client situation: A consortium of 107 enterprise customers, including every Lloyd's of London Managing Agent and their extensive Network of Third Party Administrators in North America, wanted to put in place a holistic insurance response process for catastrophe risks.
What they did: MIS-Intel provided post-event situational intelligence to exposure, claims and reinsurance teams in the form of a quantifiable damage layer. This enabled informed decisions regarding the extent of damage to be made based on quantified facts extracted from post-event, high-resolution aerial and satellite imagery. For instance, following Hurricane Florence, MIS aggregated IoT data and built a detailed timeline of events for the claims reinsurance community. After Hurricane Michael, MIS delivered individual property assessments to claims teams.
What impact it had: This provided a focal point for market intelligence enabling faster reserving and exposure returns to the regulator and quick claims resolution for the affected insured.
The Oxbow Partners View
MIS's platform allows insurers to approach catastrophe claims in a more structured way. Data allows for better triaging of claims leading to processes for claims that can be paid immediately, those requiring an adjuster to attend urgently and those which can wait. It is also possible to validate claims and identify fraud. The consequence should be a combination of happier customers, lower opex and lower indemnity spend.
For insurers, the challenge is to build an operating model for catastrophe claims. There need to be clear 'triggers' for this process, as well as protocols for instigating the actions facilitated by MIS. For Florida homeowners, underwriters having such a response plan in place is a given; for European insurers, where catastrophes are less frequent, it might be less of a priority.