Policy Expert: Impact 25 2020 profile
March 11, 2020
This is a summary of the profile which first appeared in the Oxbow Partners InsurTech Impact 25: 2020.
Policy Expert distributes home and motor products D2C and via price comparison websites (PCWs) in the UK. The business was set up as a virtual insurer 10 years ago by founders of digital SME MGA Simply Business, which exited to Travelers for a 50x EBITDA multiple in 2017.
It has expanded to become an MGA with full control of the value chain and today manages 600,000 home and 100,000 motor policies with pet insurance on its roadmap.
The company has developed a proprietary, product-agnostic technology platform. This has been architected to ingest external data for underwriting and pricing activities. The platform also powers the company's data and analytics capabilities, enabling it to price business at rates that attract and retain customers, and to identify and manage fraudulent claims.
The company has also invested significantly to enrich the customer journey across the policy lifecycle including pricing, sales, servicing, renewals and claims; its customer retention rate of 84% significantly exceeds the market average.  Policy Expert bought Sure Thing!, a UK motor insurance broker last year. This acquisition is part of the company's long-term strategy to diversify its product portfolio and apply the benefits of its data-driven philosophy to other P&C lines.
A new analytics team has been built in Sure Thing! to bring in Policy Expert's data analytics and testing techniques. This has already started to generate results across underwriting margins, loss ratio and customer retention rates.
"We commend Policy Expert for the exceptional work they do in the continual evolution of their data-focused approach and our close technical collaboration."

Mark Greening, Director of Partner Development, GoCompare
Company in action
Policy Expert's platform and processes are continuously updated based on customer feedback and multi-variant testing. The company also operates a call centre for customers who wish to pursue a hybrid customer journey. Policy Expert proactively analyses these interactions with a view to automating them.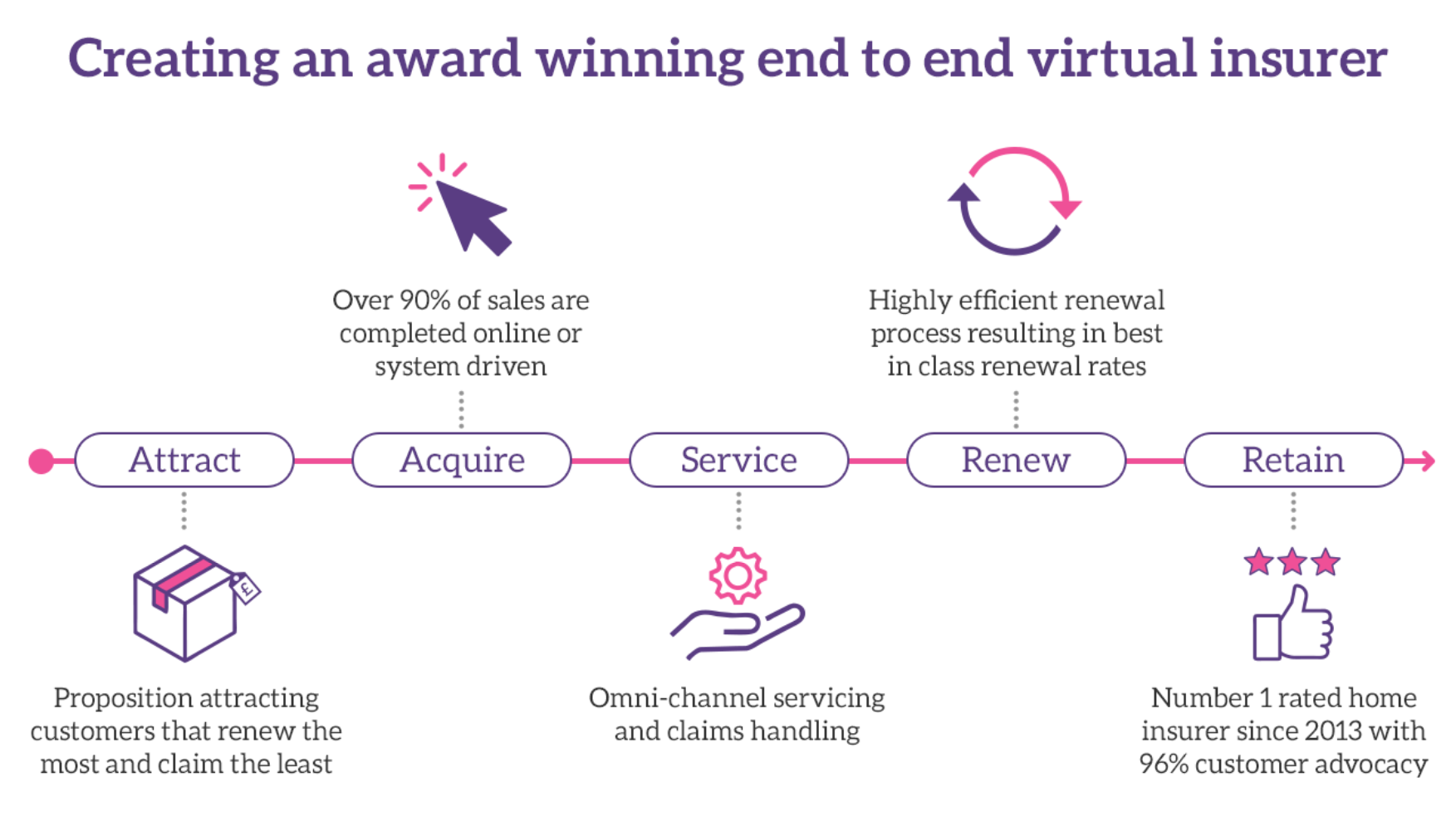 Case Study
Client situation: The UK home insurance market is dominated by incumbents burdened by legacy technology and processes. This results in disjointed customer journeys and sub-optimal customer outcomes.
Solution: Policy Expert has redesigned the traditional insurance experience to offer clear and transparent policies, fair pricing and attentive service – underpinned by its control of the policy life cycle. Its purpose-built data environment generates deep and actionable insights into assessing risks, pricing business and managing claims.
Results: Policy Expert is a top-15 UK home insurance provider and one of the fastest growing UK home insurance providers according to independent 2019 research. Its customer retention rate of 84% demonstrates that Policy Expert prices both new and existing business competitively. The company scores highly on consumer review websites. For example, over 28,000 reviews on "Review Centre" rank Policy Expert 4.6/5 with almost 96% users stating that they would recommend it to others.
The Oxbow Partners View
Policy Expert is the largest company we have selected across several metrics such as revenue, policy count and FTEs. Its inclusion shows the potential of technology-driven businesses even in mature distribution environments – and how far there is to go for even the more successful of the recent cohort of InsurTechs.
It is also interesting to note that the company focused on just one product line until recently, which is in contrast to many of the more recently launched businesses which, we observe, move into new products quite early. Policy Expert's recent move into motor insurance is however interesting and will rigorously test the company's end-to-end capabilities given the UK's highly competitive distribution environment.
It will be interesting to see what path the company takes for its international expansion. Insurance distribution in the UK is unique given the dominance of PCWs and other countries have a more benign pricing environment. The point to watch is how Policy Expert deploys its assets in these markets and the impact it can have against more traditional channels and propositions.