Praedicat: Impact 25 2020 profile
March 11, 2020
This is a summary of the profile which first appeared in the Oxbow Partners InsurTech Impact 25: 2020
Praedicat is a risk analytics company for casualty (re)insurers. It helps clients to identify, model and manage known and emerging liability risks. Praedicat believes that clients can use insight from its technology to underwrite new premium pools profitably. Praedicat was spun out of the RAND Corporation. The objective was to identify methods to predict the 'next asbestos' and provide modelling and technology solutions for (re)insurers. Asbestos was the most expensive mass tort and largest insurance industry event in US history; according to S&P and AM Best, asbestos losses to the US P&C industry have hit $100bn. Fear of a similar 'Black Swan' event had led to (re)insurers tending to exclude emerging exposures even when there was no evidence of disproportionate future claims.
Praedicat uses machine learning and natural language processing to mine global peer-reviewed scientific literature and identify agents or perils with the potential to become major loss events. Its models use this data to probabilistically quantify loss potential at agent, industry and company level. The Praedicat solution currently stores data on over 60,000 companies. For example, electromagnetic field (EMF) risk has been viewed as a potential issue leading to a very tight underwriting approach. An insurer engaged Praedicat to assess this risk through an analysis of the published scientific literature. The analysis refuted the hypothesis that EMF causes brain tumours, allowing the insurer to broaden underwriting appetite on its telecoms product, generating significant new business premium without detriment to the loss ratio.
"Excess casualty underwriters struggle with information overload every day. Praedicat's analytics provide greater risk transparency, so we can be informed risk-takers, protecting our balance sheet without unduly restricting our risk appetite."
Shannon Totten, Excess Casualty Practice Leader, Sompo International
Company in action
The Praedicat solution can be used to identify and quantify emerging latent liability risks. Users can set appropriate risk appetites, and monitor and manage risks. Underwriters can use the insight to intelligently transfer risks as profitable and accretive business. This graphic is a typical screen that an underwriter might see when evaluating a portfolio or risk.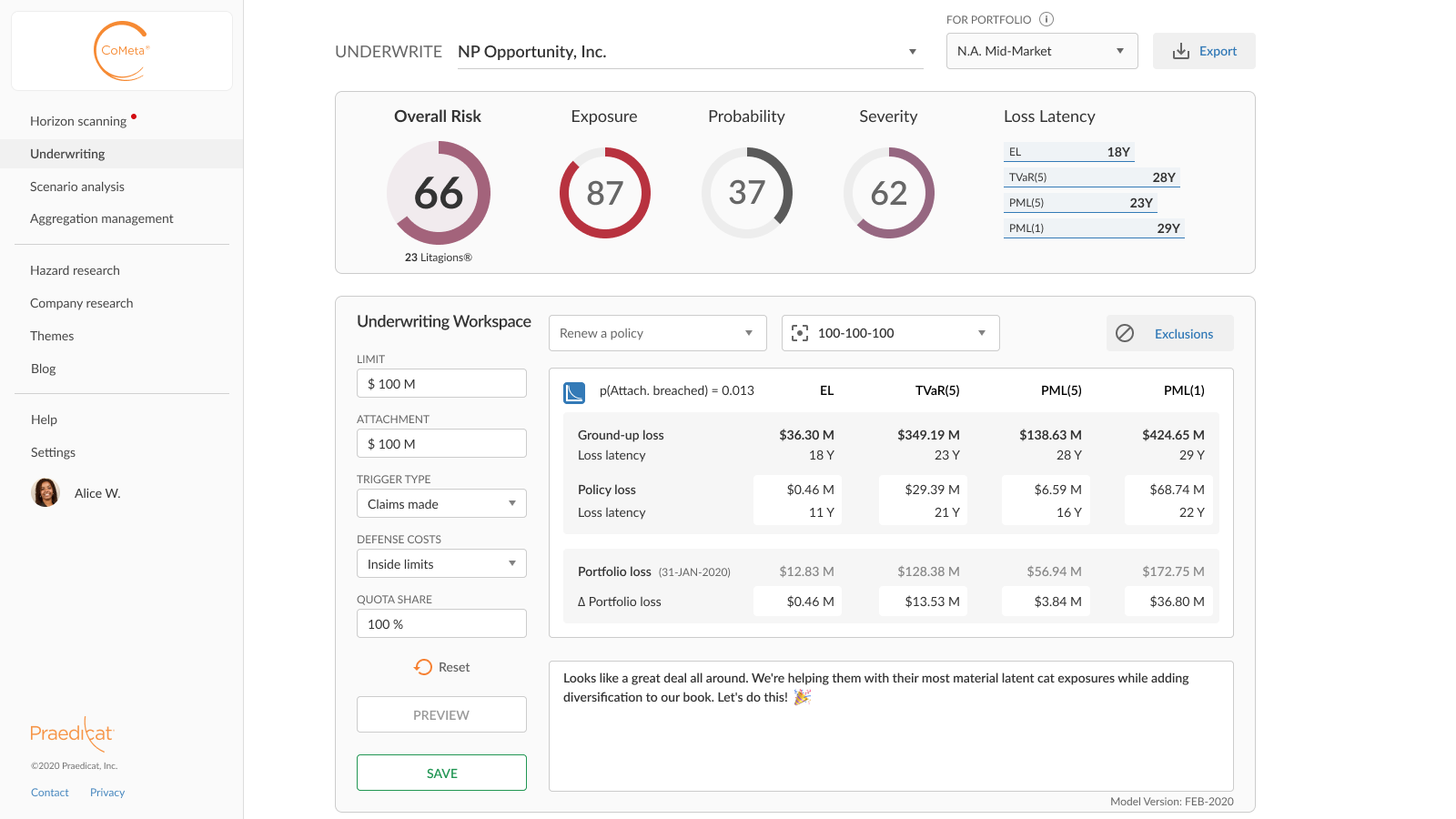 Case Study
Client situation: Significant glyphosate, opioid and talc litigation awards concerned a global insurer. The company did not know its exposure to these risks, lacked the know how to begin exploring them and did not have a systematic process to identify, quantify and manage such latent liability risks.
Solution: Praedicat quantified the latent liability risk in the insurer's existing portfolio. Appropriate risk appetites were calculated that subsequently informed the insurer's liability underwriting and risk aggregation strategy. Praedicat also worked with the insurer's Emerging Risk function to curate existing 'watch-lists' and develop a systematic process to monitor and manage emerging risks using global peer-reviewed scientific literature as a basis.
Results: Understanding its latent liability risk in greater detail has allowed this insurer to proactively manage its exposure within the newly created risk appetites. Underwriters also assess these 'new' risks and consider the need for clash cover at the point of underwriting.
The Oxbow Partners View
Casualty is a class that will be in focus in the 2020s. Stephen Catlin, CEO of Convex, recently warned of a $100-200bn reserving deficiency in casualty lines, driven by deteriorating pricing and increased claims cost. We believe that this issue will create analytical tailwinds which will benefit Praedicat. Furthermore, catastrophe modelling is well established in the property space (Praedicat's investor RMS being the market leader) and it is not surprising to see R&D investment now turning to the casualty side of the house. RMS's main competitor AIR (owned by Verisk) has also recently made an investment in this area.
There is, therefore, no doubt that Praedicat is working in a high impact area. If their analysis is correct, they have the potential to have a multi-billion pound market impact. However, herein also lies the challenge; no predictive analysis can be absolutely correct and the company's ask is that insurers base some fundamental and big-ticket capital allocation decisions on their product. The challenge will be to build a solid track record, both inside insurance and in other industries.