reask: Impact 25 2020 profile
March 11, 2020
This is a summary of the profile which first appeared in the Oxbow Partners InsurTech Impact 25: 2020.
reask's founding team has deep domain expertise in nat cat modelling and high-performance computing.
Their hypothesis is that there are limitations in many existing models that can be strengthened with pattern recognition and simulation techniques from the field of machine learning.
reask has initially focused on tropical cyclones ('TCs') and used Australia's two largest research supercomputers at the National Computational Infrastructure and the Pawsey Supercomputing Centre to build its high-resolution model. This used data from close to 200 TCs across six global basins and required two million CPU hours of processing to generate 50TB of 1km resolution gridded atmospheric data.
This analysis sits behind InCyc, reask's proprietary data and analytics platform.
The company has quickly built an impressive portfolio of global projects. InCyc has facilitated real-time hedging of securitised insurance risk for Twelve Capital; developed a probabilistic hazard model for a disaster risk financing project in an emerging market for JBA Risk Management; assess potential parametric products in underserved markets; validated AXA's internal models to provide greater transparency to the insurer's regulator.
"We partnered with reask to access their outstanding analytic capabilities, combining vast climate data and innovative machine
learning techniques. Their valuable and consumable metrics delivered insight and confidence to both our strategy, and our investors."

Dr. Jamie Rodney, Director, ILS Analytics, Twelve Capital
Company in action
ForeCyc, reask's climate-conditioned probabilistic event response tool, was used to assess the likelihood that Typhoon Faxai's could hit Tokyo in September 2019. Its probabilistic track model applied machine learning based on historical climatology, samples from reask's historical climate data repository, and forecast conditions to build a distribution of potential future scenarios.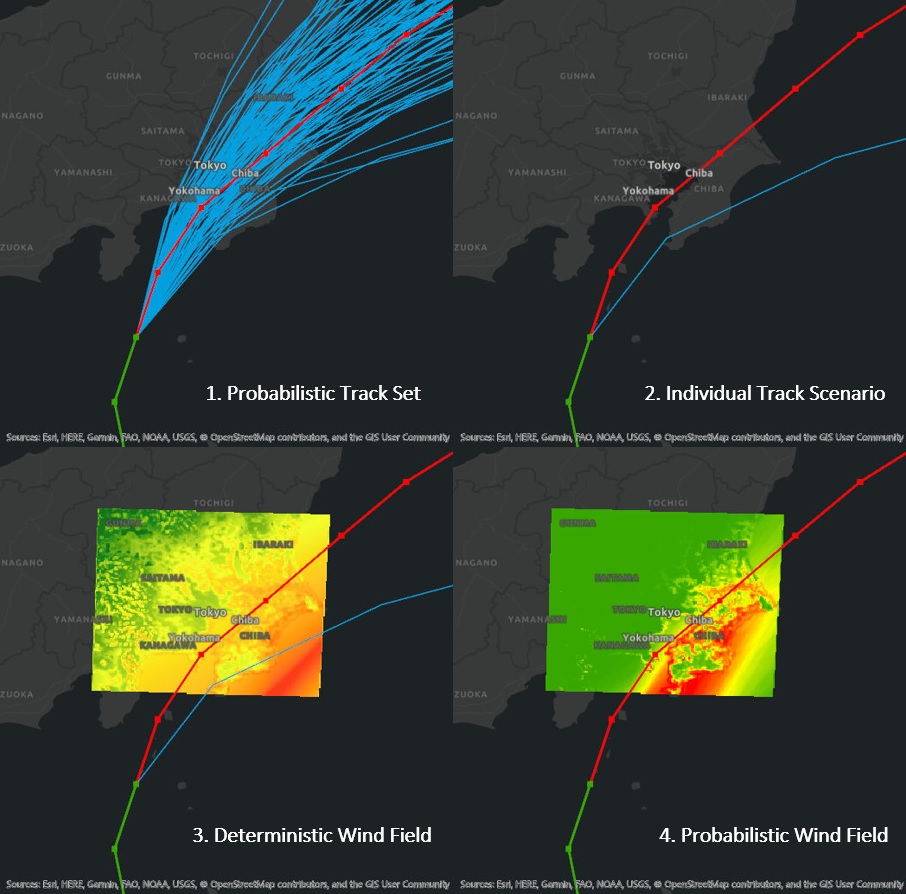 Case Study
Client situation: Twelve Capital manages $4bn of insurance assets including ILS. The ILS fund did not have relevant, predictive climate analytics to help manage its hurricane-exposed portfolio and investment strategy.
Solution: reask partnered with Twelve Capital to develop a machine learning solution for a pre- and in-season hurricane forecasting service. reask delivered monthly briefings during the 2019 North Atlantic hurricane season based on climate-aware metrics describing the frequency, severity and spatial distribution of hurricane risk.
Results: Twelve Capital implemented reask's metrics as part of its portfolio management and risk hedging strategy and communicated this approach to its investors. Twelve Capital and reask will continue this relationship for the 2020 TC season.
The Oxbow Partners View
We selected reask – a relatively early stage company – because of its highly experienced team, rapid progress and proposition.
The nat cat exposure modelling market is dominated by two players; insurers and brokers would welcome more competition. A positive feature of the market is that large (re)insurers regularly license several risk models to get different opinions on scenarios. This has allowed reask to get some clients quickly and will allow them to fine-tune their proposition further.
The challenge is that there are significant switching costs from the major model providers. These systems are embedded deeply into (re)insurers' systems and processes.
Also, whilst there are obvious systemic risks from insurers all using the same risk models, it is also true that there are strategic risks from being contrarian in the market. reask will need to find a way to compete against the incumbent providers. One opportunity might be to focus on emerging countries and disaster relief efforts. The incumbent modelling companies focus on the areas where nat cat exposed insured values are concentrated – North America and to an extent, Europe.