Shift Technology: Impact 25 2018 profile
March 10, 2018
This is a summary of the profile which first appeared in the Oxbow Partners InsurTech Impact 25: 2018.
Shift Technology uses artificial intelligence to detect claims fraud. The company's SaaS fraud detection solution, Force, uses AI to detect a wide spectrum of fraudulent behaviours across P&C, travel, life, and health insurance. Force is embedded into the client's claims process and works by analysing and scoring claims data for potential fraud; the AI becomes better at detecting fraud over time. 'Fraud alerts' are sorted and fagged to claims handlers with clear, concise and actionable explanations.
"With the Shift interface, it takes us less than three minutes to see exactly where we need to focus our investigation of the case. The information is very clear."

Executive Tier 1 Spanish Insurer
Impact
Since founding in 2014 Shift Technology has processed over 400 million claims for over 50 clients across health, motor, household, travel and workers compensation insurance.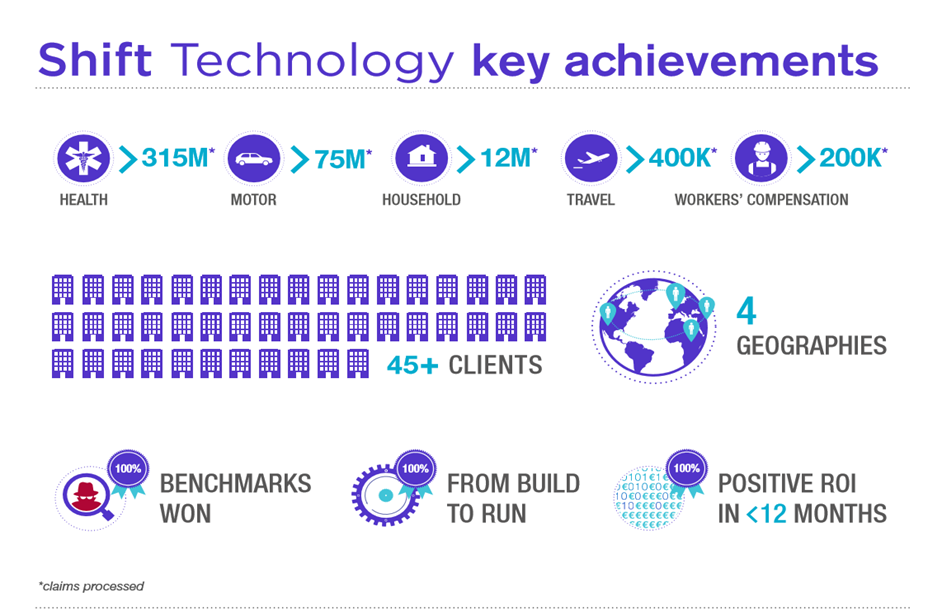 Case Study One
Client situation: A tier 1 Spanish insurer wanted to identify fraud in its motor portfolio.
What they did: Shift deployed a team of data scientists to tailor the Force platform to meet the specific needs of the client.
Impact: Since going live, over 1,000 claims identified by Force have been proven fraudulent, significantly improving the client's fraud detection rate.
Case Study Two
Client situation: A global insurer wanted to implement a fraud detection solution in an Asian country.
What they did: Shift conducted multiple workshops with the client to determine potential fraud scenarios. Shift's data scientists synced the algorithms with these scenarios.
Impact: Shift achieved a hit rate of 80% (i.e. 80% of claims fagged by the platform were deemed suspicious upon further investigation) and the insurer has implemented Force into other lines of business.
The Oxbow Partners View
Traction: Shift Technology is not the noisiest InsurTech but it is certainly having an impact. With over 50 clients, it is blazing a trail. According to TechCrunch, revenues grew 800% between its Series A round (May 2016) and Series B (October 2017).
Potential: Insurers are investing considerable time and effort automating the claims process. US startup insurer Lemonade has turned up the heat on insurers with its well-publicised claim to have set a world record for claims settlement (three seconds). The limiting factor on claims automation will be the ability of machines to detect fraud – and as such we think Shift Technology is well placed to become an increasingly important component of any insurer's claims process.
The 2018 challenge: Claims fraud is an increasingly competitive space. Shift may be about to enter a tricky phase of growth where it is sufficiently established to no longer to have the novelty factor of some of the newer InsurTechs, but also does not have the scale to compete against the established industry titans. It's a nice problem to have to solve.