Tremor: Impact 25 2019 profile
March 4, 2019
This is a summary of the profile which first appeared in the Oxbow Partners InsurTech Impact 25 2019.
Tremor is the latest technology company to try to disrupt the centuries-old reinsurance pricing and placement model.
The traditional process has multiple steps and hand-overs to find price and allocate limits; it is both inefficient and intransparent. Tremor brings programmatic auction technology (such as that used in the digital advertising industry) into the process. Cedents can 'post' their reinsurance order on Tremor's platform along with a blind sealed bid and the system then runs batch auctions to match risk and capital.
Tremor's platform is designed to fit into existing workflows. Programmes are prepared by cedents or brokers and are placed on the platform with documentation in virtual private data rooms. Reinsurers approved by the cedent can then review and evaluate the programmes before submitting bids.
The business announced in August 2018 that its technology was ready. It has completed several auctions to date, the first few of which were pilots, but the most recent (in December 2018) was described as a "substantial" property / casualty programme by a top 20 US carrier.
According to Sean Bourgeois, CEO, fifty reinsurers participated in the transaction along with a number of alternative capital providers. Nearly $700m of capacity was offered. Reinsurers around the world have signed up to Tremor's platform, including fifteen Lloyd's managing agents and reinsurers in Asia. Tremor charges a fee to the buyer of protection based on the limit placement.
"Congratulations to Sean and his team for their successful release of Tremor, an honest and direct platform facilitating the marriage of risk and capital at its most optimal state."

Nephila Capital
Company in action
Tremor workflow: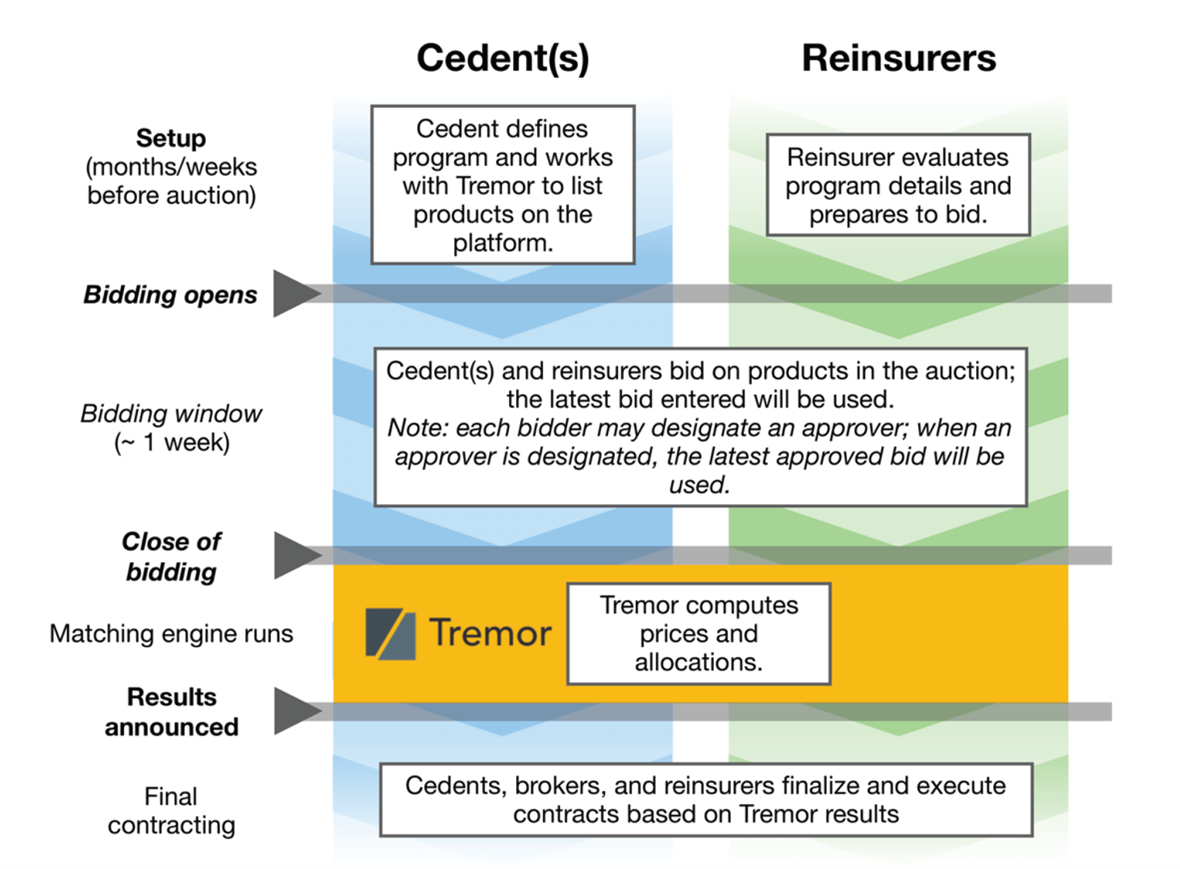 Case Study
Client situation: A top 20 US carrier wanted to explore a new approach to pricing and placement of its property catastrophe reinsurance. It decided to price and place their entire property catastrophe tower through Tremor's technology
platform, facilitated by their broker.
What they did: The broker managed programme design and developed the submission package. The company then selected its preferred reinsurer panel on Tremor and the submission was distributed to each reinsurer. All parties finalised the contract wording and were invited to enter their blind sealed bids on the Tremor platform during the bidding window. At the end of the window, Tremor ran a batch auction to find market clearing prices that incorporated the preferences and constraints of all sides and allocated limit accordingly. All parties were notified when the results were ready, and lines were signed on the basis of the output from Tremor.
What impact it had: Tremor brought significant supply and competition to the auction. Nearly 50 markets bid on the submission, offering a total of nearly $700m of capacity. Tremor delivered competitive market clearing prices and managed allocation in a fraction of the time and cost of a traditional placement.
The Oxbow Partners View
The reinsurance placement process is a well-documented inefficiency in the insurance industry. Tremor is hardly the first startup to address it – for example RI3K was an early mover in London – but its timing might be better than that of previous companies. We offer two pieces of evidence to support our thesis. First, Lloyd's is committed to digitising its marketplace – an objective which John Neal has reiterated in public statements since becoming CEO in October 2018. In March 2018, the Corporation announced targets for syndicates on the proportion of the risks they should writing electronically (40% by the end of 2018). It is widely assumed that brokers will be mandated to use electronic placement systems in 2019. This will force some London Market players to commit more actively to technology solutions.
Second, we are interested by the recent acquisition of broker Ed by Cantor Fitzgerald. Cantor Fitzgerald was the first electronic marketplace for US government securities and now runs several other such marketplaces. One can only assume that they see opportunities to digitise the insurance market, providing additional impetus to this trend. Tremor might be in the right place at the right time.