Bitesize InsurTech: Trov
June 7, 2021 Freddie Denison-Smith
Trov is a B2B technology platform that enables businesses to distribute digital insurance products through either a white-labelled or embedded proposition.
Based in San Francisco (with London and New York offices) the company is active across North America and Europe. The platform distributes a range of products (e.g. contents, motor, fleet, travel, pet) from an underwriting and capacity panel that includes LBG, Markel, DLG, Allstate, and Aviva.
Enjoy our Bitesize InsurTech articles? Subscribe here to receive them straight to your inbox.
The Pivot
CEO Scott Walchek founded Trov in 2012 after successfully setting up and exiting multiple Silicon Valley tech start-ups. Initially designed as a digital repository or 'treasure (Trov)e' for your belongings, it saw an opportunity to monetise this idea through insurance. In 2016, when we last wrote about Trov, it was leading the insurgence of InsurTechs, having launched a fully digital mobile contents insurance offering that allowed people to easily swipe insurance on and off for individual belongings (e.g. phone, bike). The proposition caught the attention of investors, raising over $90 million from the likes of Anthemis, Oak HC/FT, Sompo, Munich Re, and Guidewire.
However, despite its superior proposition and technology capabilities Trov struggled to scale efficiently. The direct cost per acquisition for the emerging brand was too high compared to the customer lifetime value that flexible insurance offerings provide.
As a result, realising its USP was in its middleware technology platform, Trov pivoted in 2019 towards a B2B model with distribution partners. Trov now provide its digital insurance platform for incumbents or consumer brands who already have well-established customer access channels.
In the UK, Trov launched a white-labelled digital renters insurance offering with Halifax followed by a flexible contents insurance product with Lloyds Bank. It also announced its first cohort of embedded insurance partnerships with five UK consumer brands such as Utilita and Moovshack in April 2020. In these embedded partnerships the insurance offering is woven right into existing mobile and web customer journeys. Trov's partnership model involves a commission split between Trov and the distribution partner, plus a relatively small license fee to cover fixed costs.
The Platform
Trov's platform acts as the 'plumbing' that connects insurance products and underwriting capacity with distribution partners. The platform performs the complex logic that sits behind the insurance value chain from quote & bind to MTAs to claims FNOL. This functionality is then exposed to the digital front-end through Trov's APIs. Trov provides three front-end options for its distribution partners: use Trov's white-labelled front-end, embed the insurance in their own front-end, or use Trov's referral toolkit to offer insurance branded by one of the underwriting partners.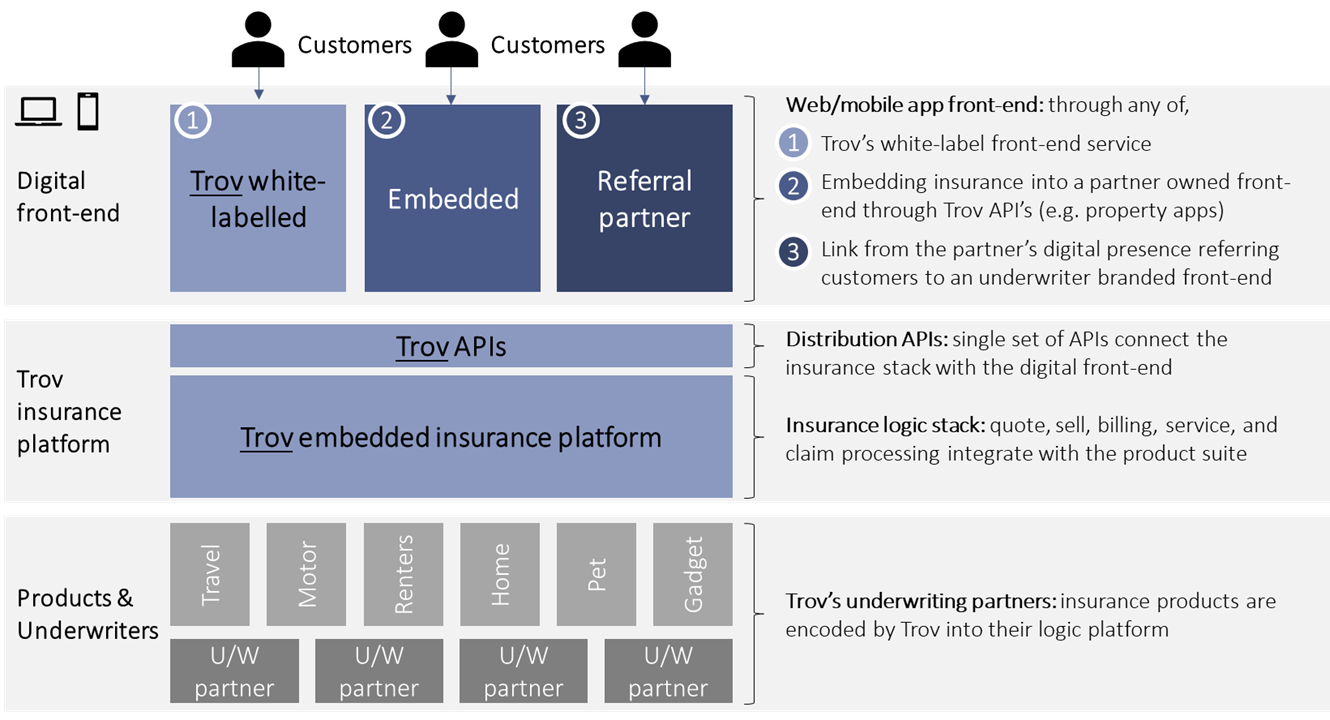 Trov's architecture and distribution APIs are designed to be product and underwriter agnostic. The advantage of this is that once a distribution partner has built the integrations using Trov's APIs they are able to add new products with minimal additional time and investment.  
The Oxbow Partners View
In our recent InsurTech Impact 25 report we argued that the embedded insurance model is a bullish theme to watch out for due to three reasons: social trends, such as ecommerce and the gig economy, access to untapped customer pools and the innovation it can enable (e.g. Drover). We have also seen many other distribution InsurTechs struggle to grow profitably – Lemonade being a prime example. As a result, we believe Trov's pivot towards embedded insurance aligns well with both macro and market pressures we see influencing insurance.
Trov's model appeals to us for two main reasons. Firstly, it shifted its focus away from proposition innovation (which can be difficult to scale) towards delivery innovation and providing the best route-to-market for digital insurance products. Secondly, Trov's architecture enable it to navigate the complex global landscape of underwriters and products to deliver embedded insurance for its distribution partners at a global scale. We see Trov being a good fit for both:
Incumbent Insurers 

who are looking to deliver a modern digital insurance experience across the value chain and expand their affinity proposition to attract new customers without making the significant investment required to modernise their core systems.

Consumer brands

who are looking to bolster their revenue streams through clear adjacencies with insurance products (e.g. a renters app and home/contents insurance).
However, a potential challenge with embedded insurance is continuing to find demand. We have seen with other InsurTechs in this space that what seems like a logical adjacency does not always translate into real demand.
Trov is a member of an emerging segment of InsurTechs looking to provide embedded insurance solutions. You can find others, such as Qover, Wrisk, and Cover Genius in this Magellan Collection.