Video series: Working from home during the lockdown for Assistants
April 24, 2020
Over here at Oxbow Partners we've been thinking about how we can best support the Assistants we've enjoyed working with over the past few years. To say we're living in unknown times is a bit of an understatement, but in some ways it's also 'business as usual' because a lot of us are ploughing through our normal workload.
Both Sam Chipperfield and I are remote workers so logistically the past few weeks haven't been too different for us. EXCEPT of course we now have our young children at home with us…….so actually it's all hugely different! We're adapting every day and our working hours are even more flexible than before (and I'm fairly sure I have a few extra grey hairs).
To help you get a bit of focus back on you, during the UK lockdown (and quite probably European lockdown too) we're going to send a weekly email to you covering:
Tips and tricks for working from home
Self-care and your sanity
Something to make you smile
Week 1
Your physical workspace and your mental and emotional wellbeing
Self-care and your sanity
We're all navigating an entirely new situation, and with the UK lockdown extended yesterday for another 3 weeks you might be feeling a bit overwhelmed.
Although there isn't yet an end in sight, one thing that remains true is that nothing lasts forever. We might go through a period of 'a new normal' and that will evolve into different versions or 'normal' over the coming months. But eventually we will get back to life as we knew it before, and I think we'll all be far more thankful for the little things when that day comes round.
In the meantime, here are some simple ways to invest in your self-care:
Take that daily walk. Change your route often so you don't get bored!
Take regular breaks. Even if you're super busy, it's vital that you take a break from your screen. You'll be more productive after it and you'll feel more able to handle the rest of your day after you've taken some breathing space.
Practice mindfulness. Stop and notice little things that you might not normally see. It might be the sound of the wind rustling though the trees on your daily walk or the way your child's hair curls behind their ear.
Try an online fitness, yoga or meditation class. There are heaps of free ones available at the moment and if the thought of doing exercise after a day's work makes you groan, try a short HIIT (High Intensity Interval Training) class or a 30 minute yoga lesson you can do during your lunch break. I've found a great selection of HIIT classes here.
Don't be hard on yourself for having a bad day. It's perfectly ok to feel in a funk while at the same time being aware that others may be in a worse position than you are. It doesn't take away the importance of your feelings or diminish the struggles of others, so give yourself the grace to allow yourself to feel whatever you feel.
Something to make you smile
I've stumbled on some absolute gems while looking for this section's content! My favourite so far has to be this: Live video streams from around the world, including elephants in South Africa! These are live streams that existed way before CV and I can't believe I've only just discovered them. You can find the full list here, including a mesmerizing Thai beach live-cam.
Week 2
Communication and teamwork
Self-care and your sanity
It can feel really challenging to find a moment to yourself sometimes. Between work and keeping a 3 year old entertained, sometimes the only 'break' I seem to get is when I'm putting the washing on – and I definitely don't think that counts!
In a bid to inject some self-care into a busy work/home day, I've found these things work well for me and may very well help you keep your sanity too:
Start your day with a morning routine. Mine currently includes having a cup of coffee and writing three things I'm thankful for and setting an intention for the day. Studies show that practicing gratitude can significantly increase well-being, so I'm all for it
Try a short meditation. Calm has a number of free ones which you can access here
Read a few pages of a book or magazine during a short afternoon break
Finish your day by writing a to-do list for the next morning, close your laptop and the door so you don't need to see your computer again until the next day. Putting your laptop in a bag in a cupboard works equally well. Out of sight, out of mind.
Something to make you smile
Since we've been told to stay inside I've found myself even more curious about places and things I know little about, so when I saw the Hubble telescope's 30th anniversary photos I leapt down the proverbial wormhole! You can find an overview of the best images here.
If you have children you might also be interested in watching the Sea Life London Aquarium's live feedings, which are shown on their Facebook page here. In fact, you could watch them on your own too – the penguin feeding is a great distraction!
Week 3
Improving your working relationships
I referenced a few things in the video so here are the links for you to learn more:
Lucy Brazier's email triage video (and more!)
Trello: A free project management tool
Self-care and your sanity
Last week I had a few pulling-out-hair moments. I'm not sure why last week felt harder than any other, but I definitely felt overwhelmed at times and just a bit down in the dumps in general. A few years ago I wouldn't have done anything about it other than have a good old moan to anyone that would listen, but these days I'm a lot better at sitting back and working out what I have the power to change to make myself feel better.
This is what I found:
Food: I have the BIGGEST sweet tooth and I have honestly not stopped eating biscuits, chocolate and cakes since the lockdown began! Not only has this led to about a stone in weight that I need to shift (seriously), it's also made my energy levels much lower than normal. I didn't realise this until my sister mentioned she's doing a 5-a-day challenge with her daughters and it made me acknowledge that I really haven't been fuelling my body with the good stuff. This definitely isn't a preachy 'eat better' message as we're all intelligent people here and we know the difference between delicious unhealthy food and delicious healthy food. But once I started getting back into the habit of eating 5 pieces of fruit and veg a day I definitely noticed an improvement in my energy levels.
Visioning: I used to dismiss this type of thing as a bit too woo-woo, but ever since I got crystal clear on what's important to me and what I want to work towards, I've been much more motivated. I started off by collecting clippings from magazines of images that inspired me – mostly beaches and swanky holidays – and then I began to dig deep and list what really mattered to me on a personal level. Things like walking a lot more, spending time with family and giving my daughter 100% focussed attention when I'm with her (that one's a little off kilter now for obvious work/home reasons!) I've been updating my vision board over the last couple of weeks as I've realised my priorities have changed and it's made me feel calmer and more empowered.
Positive affirmations: Another thing that lay firmly in the woo-woo camp was repeating cheesy statements over and over. But you know what? It works! I now repeat a few affirmations to myself every morning and I write them down several times too. It helps to calm my anxiety and also makes me feel more in control. The trick with positive affirmations is that they really need to resonate with you on a deep level, so spend a bit of time working out what's super important to you and will motivate you. They also need to be in the present tense, so 'I'm a calendar-taming ninja' rather than 'I want to be a calendar-taming ninja'. Obviously our top motivator in life….
Are there any tweaks you could make that would improve your lockdown experience? I'd love to hear what's worked for you.
Something to make you smile
There are some incredible acts of kindness going on at the moment. These are my current top 3:
Furloughed Foodies London are feeding NHS staff and people in need – you can donate, cook or deliver here
Captain Tom. Need I say more? His current fundraising total for NHS Charities is £32,795, 707! You can donate to the charity here
People in India have been able to see the Himalayas for the first time in years because of the reduced pollution
Week 4
What it's like to work virtually all the time
Self-care and your sanity
Without your ergonomic set-up in the office, it's really easy to get in the habit of slouching and tensing up throughout the day. I've struggled with this for years and the only things I
Regularly (like, every half an hour) have a quick stretch in my chair. I roll my shoulders, arch and straighten my back and anything else that helps to release some of the tension. Set a reminder or alarm on your phone to go off every 30 minutes to remind yourself to do it
Pay attention to my jaw. This is a terrible habit but when I feel stressed (of even if I'm just really focusing on something) I clench my teeth. This leads to migraines for me which I loathe, so now I'm becoming much more mindful of my jaw throughout the day. Odd thing to say I know! I also wriggle my jaw around a few times when I feel tense, which looks even weirder than it sounds
Take proper breaks. Yes, I know I talk about the importance of taking breaks A LOT but it
I went to a PA networking event last year and one of the speakers was Kerrie-Anne from Pilates at Your Desk. She showed us some really simple ways to look after your body at your desk with pilates, and she's a great teacher. She runs corporate pilates sessions which obviously won't work at the moment, but she also does virtual 1:1 classes AND shares lots of short, free videos on Instagram too. You can find her here (there's no commercial arrangement, I just thought she was great at the session I attended!)
Something to make you smile
Meghan, Archie and the duck book. I'm hugely impressed that Meghan managed to carry on reading so well while Archie loses interest. I remember that very well!
Yesterday we FINALLY brought our little cavapoo Marley home! We chose him before the lockdown went into effect so it has been a long old wait. He loves a cuddle and Izzy is besotted.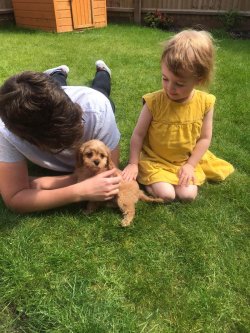 Week 5
How to get your mojo back when you're feeling a bit 'meh'
Self-care and your sanity
Extending the mojo chat, I wanted to dive a bit further and take a look at comparison.
Social media is wonderful for so many things but it can also stir up a lot of comparison issues. If I'm already feeling a bit sensitive or 'meh', a surefire way to make me feel worse is to start scrolling on Instagram. We rarely post monotonous details of our day so what we generally see on social media is everyone's highlights. Pictures of happy events, good things happening at work etc – all great reasons to be happy for other people but if you're already feeling a bit mojo-less it can make things feel a lot worse. And with everybody and their Gran achieving amazing things during lockdown, there's a lot of pressure to 'level-up' while we're at home, which just isn't going to work for all of us.
Lucy Sheridan is the queen of living comparison-free and some of the tips she suggests are:
Getting offline and journaling how you feel
Not being hard on yourself for feeling a certain way
Work out your values and what's important to you and ask yourself if you're on that track
Something to make you smile
Week 6
An Assistant's guide to LinkedIn
A few things I mentioned in the video:
Self-care and your sanity
I think everyone who knows me well knows that I love to feel organized both at work and at home. What I've realised fairly recently though is that there's a fine line between being organized and in control, and since my partner and I have both been working at home with our 3 year old I've had to try to re-train the way I think! Giving up control doesn't come easily for me but the more I've tried to do it the less I clench my teeth, which is always a win.
If you (like me) might be on more of the controlling side of organised (no shame here!) here are a few things that have helped me move towards a more chilled place:
Letting go. I ask myself 'is it really that important that this happens right now?' If not, I let it go. If it does need to happen right now, eg. feeding my daughter when she gets hangry, I take a couple of deep breaths to chill out and just do it.
Letting someone else have a go. If I really do need help with something and I want that help to continue (like, erm…..someone else doing the dishwasher) then I have GOT to stop micromanaging. Does it matter that it's not done to my exacting standards? No, it really doesn't!
It's not the end of the world if something isn't done. This one's a work in progress because I really do like things to be sorted, but sometimes there aren't enough hours in the day or enough fuel in the tank to cross everything off the list. On days like this I remind myself that the world won't end if I only manage two loads of washing instead of three.
Something to make you smile
Are you a bit rubbish at accepting compliments with a 'thank you' and no follow-up self depreciation to make it feel slightly less uncomfortable? Then this guide to accepting compliments is a must!
I've attended yoga classes on and off for the last 15 years or so but I've only recently heard of Laughing Yoga…..yes, that's right! I haven't tried it myself but as laughter is the best medicine I'm a bit curious to find out if it does actually help to lower stress levels. You can find out more about it here, and there are also some online classes listed here too (with no video so no fear of people seeing you laugh like a maniac)
Week 7
Understanding the business and the role you and your exec play within it
Self-care and your sanity
This weekend I'm determined to dip my toes into meditation. This will probably be the 7th time I've tried meditating but I'm so impatient that I've always given up. After two migraines in the space of 10 days (lockdown/work/3 year old combo of stress) I've decided to give it a proper go now though!
When the lockdown first happened I didn't feel too phased about the whole thing because I've worked from home for years anyway, but what I didn't take into account was how I'd feel having my three year old at home AND still having to work AND trying to keep her fed, watered and entertained. Some days I manage the juggle better than others but more often than not I find myself working in the evenings to get everything done (as you can see from the time you've received this email!)
Some days feel a bit more frantic than others and even though I love ticking things off a list, I've realised that my lists are just too big to think about sometimes. Anyway, after reading lots about meditation I've realised that feeling impatient and having my mind wander is ok and that the right step to take is to acknowledge that it's happening and take my mind back to following my breathing.
I'll let you know how it turns out!
Something to make you smile
A couple of kind-hearted pig farmers have fed a million bees since planting wildflowers on half their land
The honeybee population has bounced back in the US after a severe drop in numbers last winter
Can you tell I like bees?