Bikmo: Impact 25 2020 profile
March 10, 2020
This is a summary of the profile which first appeared in the Oxbow Partners InsurTech Impact 25: 2020.
Bikmo began life as an online platform for cycling enthusiasts. It pivoted into insurance in 2014.
Bikmo distributes both D2C and B2B2C. It has partnerships with many UK cycle retailers and has access to almost every UK cyclist. For example, it is the exclusive insurance partner for income protection to British Cycling, the UK's national governing body for all forms of cycling from leisure riders to professional cyclists, which has over 160k members. It is also an exclusive partner for Deliveroo in the UK for the same product.
Bikmo's benefits from its technology platform and the cycling ecosystem it has built; its customer retention rate is over 85%.
Bikmo established a new regulated entity in Germany in 2019 allowing it to passport into EU territories. Germany, Austria and Switzerland are the priority and Hiscox, its primary carrier, is supporting its German market entry. Growth has been largely bootstrapped to date, although the company is set to close its first institutional investment in February 2020.
Culture and ethics are central to Bikmo's vision and goals. This was validated in 2019 when it became a certified B Corporation. This designation is awarded after a rigorous vetting process to demonstrate that businesses meet the highest standards of social and environmental performance, transparency and legal accountability to balance profit and purpose.
"We're really happy with the insurance services provided by Bikmo. The policies, technology solution and managed customer service is working brilliantly for our fleet of riders in the UK, who we know value the free insurance we're now able to provide in partnership with Bikmo"

Patrick Smith, Global Resilience Leader, Deliveroo
Company in action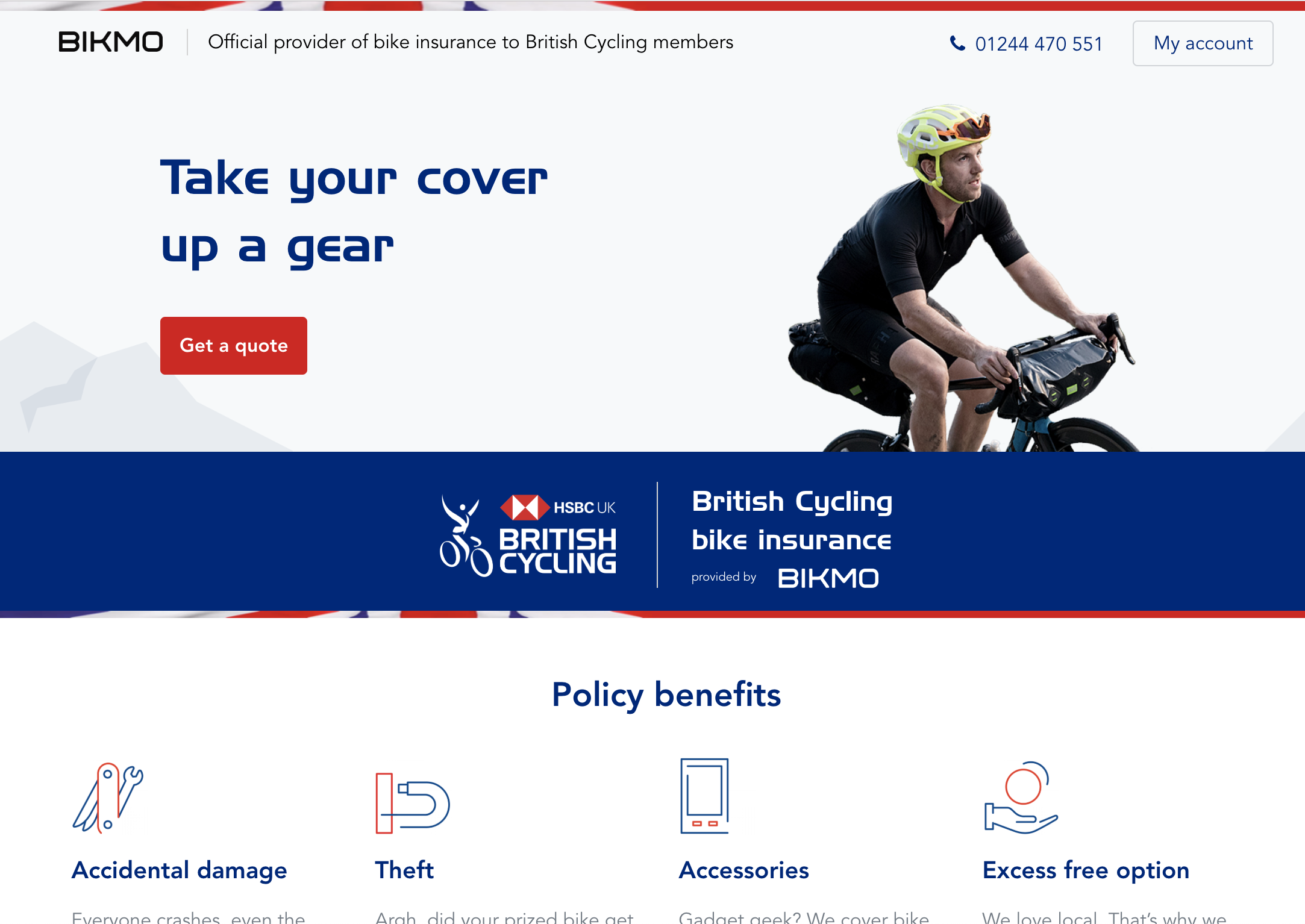 Case Study
Client situation: NBrompton, the UK's largest-volume bicycle manufacturer and iconic British brand, wanted to enhance its value proposition by enabling customers to purchase a customised insurance policy at point of sale.
Solution: Applying its experiential and data-driven insights, Bikmo identified that Brompton riders have a better claims history than the general population of insured riders. This enabled it to lower prices for Brompton customers by 25%. Bikmo also developed a bespoke digital experience including quote and buy journey for Brompton customers. Bikmo provides a free 14 day insurance policy with every new Brompton sold in the UK and designs 12 month free promotions.
Results: Brompton has been Bikmo's most successful free-to-full policy conversion partner, up to 2x higher than Bikmo's other partnerships. The 12 month free cover leads to a significant increase in sales during promotional periods. This partnership is being repeated in Germany in 2020.
The Oxbow Partners View
Bikmo is a good example of a highly tailored proposition that engages a specific segment. Bikmo's team of cycling enthusiasts understands its customers and partners like no generalist insurer or broker is able to do – thereby reminding the industry of the value of intermediaries.
Bikmo is also ahead of the game on corporate responsibility. Its B Corporation status is becoming increasingly popular in the insurance industry: other holders of the certification are Lemonade and UK digital broker Simply Business. When it comes to engaging communities, broader corporate behaviour is important.