Future at Lloyd's: Blueprint Two in a nutshell
November 5, 2020
On 5 November 2020 Lloyd's released 'Blueprint Two'. Blueprint Two is the third instalment in the Future At Lloyd's, the marketplace's transformation programme initiated by CEO John Neal and follows the original Prospectus and Blueprint One. The Oxbow Partners team has gone through the 104-page Blueprint Two document and summarised it for those short of time.
How did we get here?
Blueprint Two comes almost exactly a year after Blueprint One, which initially proposed six solutions to transform the Lloyd's marketplace.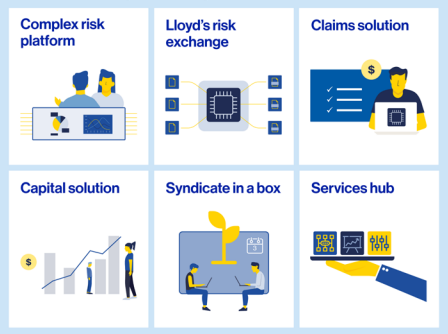 To refresh your memory of Blueprint One, read our summary here.
A Blueprint One update on the overall programme and proposed solutions was released on 30 September 2019 . It highlighted that funding of £300m had been secured, one thousand stakeholders engaged, and early-stage proof of concepts conducted (e.g. Syndicate in a Box with Munich Re, claims solution prototype in collaboration with Impact 25 Member McKenzie Intelligence).
The onset of COVID-19 sharpened the Blueprint's focus, and Lloyd's updated it again in April 2020 prioritising 3 initiatives: building a next-generation PPL, delivering a digital coverholder solution, and fast-tracking claims process improvements.
The infographic below sets out how the Future at Lloyd's Programme has developed over the last 18 months.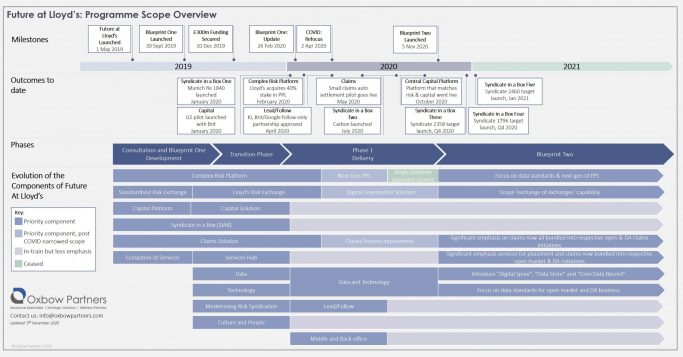 What's being proposed?
Blueprint Two is about implementation and delivery. In a recent podcast, John Neal described it as "when rubber hits the road".
The shift to delivery has also brought a shift in approach. While Blueprint One outlines six individual workstreams, Blueprint Two takes a more integrated view and focuses on how they can – together – deliver end-to-end digital journeys for market participants.
Blueprint Two therefore focuses on the two most common Lloyd's customer journeys: open market and delegated authority, which together make up 80% of the premium and 90% of contracts placed at Lloyd's. Other customer journeys (like reinsurance and automated placement) take a back seat and will undergo further consultation in 2021.
Open market and delegated authority are split into two transaction stages which are called "getting covered" and "recovering from loss":
Getting covered: Digital placement for new business, endorsements and renewals
Recovering from loss: Digital claims notification and loss adjusting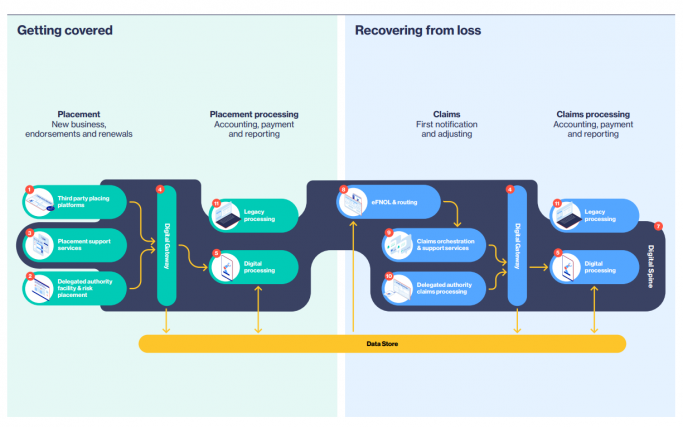 An open and flexible digital and data infrastructure ("Digital Spine" and "Data Store") underpin and connect "getting covered" and "recovering from loss" for each Lloyd's journey.
Blueprint Two will run for two years, is targeting savings of £800m for market participants, and is funded by debt raised in early 2020.
Summary of Blueprint Two initiatives
Initiatives are structured in a matrix of customer journeys (open market and delegated authority) and transaction stages (getting covered and recovering from loss).
1. Open market – getting covered initiatives
Blueprint Two outlines several open market placement initiatives. As we understand it, focus has shifted away from owning a single placement platform (PPL) to setting data standards for other market participants and vendors (e.g. Whitespace). Future at Lloyd's will still develop the PPL platform, but the ambition seems to have reduced from the grand replatforming proposed in Blueprint One. The next generation of PPL will be rolled out and enhanced over 2021 and 2022, an immediate focus being on offering a more intuitive and compelling user experience.
Lloyd's will introduce a "Core Data Record" (CDR) to capture placement data post-bind. This will provide a single point of reference for subsequent processes such as payment, claims, renewals.
Placement support services will also be introduced, ranging from collaboration with enablers like The Virtual Room to digital tools like a tax calculator, digital clause library, and "doc-check" to enable compliance with Lloyd's standards. Digital placement processing will also be introduced via an intelligent Market Reform Contract and a Digital Gateway, which will create and store the CDR and route the transaction for either digital or legacy processing.
2. Delegated authority – "getting covered" initiatives
For delegated authority, Blueprint Two outlines an end-to-end platform to digitise processing and provide digital tools to coverholders. Examples include digital onboarding through a "Delegated Contract and Oversight Manager" (DCOM), digital binder registration, and access to digital trading platforms.
3. Open market  – "recovering from loss" initiatives
Open market claims continues to be a significant area of investment for Future at Lloyd's. Lloyd's will introduce a new claims platform and ultimately replace ECF and CLASS. It will introduce eFNOL, instant validation via connection to the CDR, a workflow triage process and platform, automation (such as automated adjudication), and digital tools (such as geospatial imagery and hurricane tracking to support claims adjusting).
4. Delegated authority "recovering from loss" initiatives:
Lloyd's are not creating a new process for delegated authority claims and will work largely with the existing model whereby the majority of claims are handled by Delegated Claims Administers (DCAs). Lloyd's will however work to support DCAs through digital tools and initiatives including digital data capture, automatic workflow, and automatic funding and cashflow. Lloyd's hopes this will move towards eliminating the need for loss funds and claims bordereaux in the future. (For more on the future of loss funds, see our recent profile on Vitesse PSP.)
5. Digital processing initiatives
To enable end-to-end digital processing, the Blueprint outlines several initiatives relating to data creation, centralisation and storage including the Core Data Record (CDR). It will implement a Digital Gateway to validate, enrich, route, store and report data from placement to processing.
Focus of activity in 2021
The focus for 2021 will be:
Implementing data and placement standards
Launch of next generation PPL
Release of placement support services
Rollout of delegated authority solutions
First release of the Digital Spine, Digital Gateway and Data Store
Testing new claims solution (focus on eFNOL)
Delivery of delegated authority claims process improvements
2022 will focus on iterations, scaling to more classes of business, and rolling out the new claims solution.
How have the Blueprint One solutions been affected?
Blueprint One focused on six solutions, which have been subsumed in the new structure.
Complex Risk Platform. Lloyd's will no longer develop its own placement platform. It will instead provide risk placement standards (data and processes) and focus on the next generation of PPL (accelerated by its recent investment).
Lloyd's Risk Exchange. There have been some experiments with using algorithms to underwrite business automatically. This will form the basis of further research and experimentation over the next year.
Claims Solution. Claims continues to be a significant part of the Future at Lloyd's, and Blueprint Two has built on the triaging, automated decision-making, and orchestration of complex claims handling outlined in Blueprint One.
Capital Solution. Blueprint One outlined a plan for simpler capital rules, new and complementary structured investment opportunities, and a central capital platform. In light of market feedback and COVID-19, this work has been paused. A platform giving market participants easy access to Funds at Lloyd's data was however developed and went live in October 2020.
Syndicate in a Box (SIAB). Four SIABs have been launched so far with 10 proposals in the pipeline. The initial approach to reviewing and approving applications has been revised to be more efficient. Immediate plans include fine tuning the criteria, making explanation and information more widely available, and working with managing agents to increase capacity to manage SIABs.
Services Hub. The concept of providing new and innovative services to market participants has been integrated into the new approach.
The Oxbow Partners team will be analysing Blueprint Two over the coming days and will release an Oxbow Partners view shortly. Watch out for our thoughts on technology strategy, expense ratio savings, and lead-follow.
To speak to the team about your Lloyd's strategy, please contact us.