Structuring data teams: burgers, jam doughnuts or smoothies
April 26, 2019
The insurance industry is arguably one of the most diverse in terms of data maturity. Aggregator-driven retail insurers produce quotes optimised across thousands of segments in seconds, whereas judgement is still a major factor in many speciality lines of business.
Insurers, at all points on the maturity spectrum, are being challenged to raise their capabilities in this area. InsurTechs such as Cytora, Digital Fineprint, Pharm3r, Shift Technology and FRISS (all members of the Oxbow Partners InsurTech Impact 25) allow leading insurers to get superior insight across marketing, pricing, underwriting and claims. Digital transformation programmes allow insurers to gather or access more data to enable partnerships with such providers.
Oxbow Partners is helping several (re)insurers tackle their data challenge. Approaches taken by our clients range from partnering with specific InsurTech to address identified problems to designing and implementing data-led operating models.
The common thread across all our engagements is clear: the people you recruit and the way you organise data teams have the biggest impact on success.
Our latest infographic summarises the three ways in which data teams can be organised. We have described these as the Burger, the Jam Doughnut, and the Smoothie. There is no correlation between the healthiness of the food and the desirability of the model for insurance companies.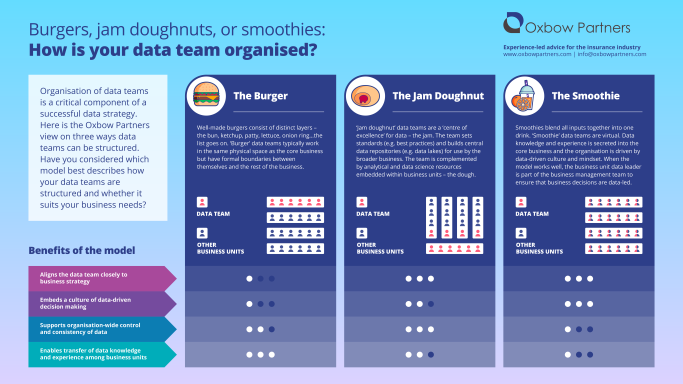 The Burger
Well-made burgers consist of distinct layers – the bun, ketchup, patty, lettuce, onion ring…the list goes on.
'Burger' data teams typically work in the same physical space as the core business but have formal boundaries between themselves and the rest of the business.
These teams benefit from a clear set of objectives and the ability to be consistent in their approach and can apply ideas across the business. However, this 'order' could also be a downside: teams can be distant from the business; their objectives may not be aligned to the greatest sources of value in the core business; they may be too academic and not 'gritty' enough for a business unit.
The Jam Doughnut
Jam doughnuts (or jelly donuts for our American readers) have a jam core that expands into pockets of air in the outer ball of dough.
'Jam doughnut' data teams are a centre of excellence for data. The team sets standards (e.g. best practices) and builds central data repositories (e.g. data lakes) for use by the broader business. These central assets are absorbed into the core business through analytical and data science resources embedded within business units.
This model standardises the use of data across the business and encourages adoption of ideas across business units through the combination of a central team and virtual networks. Resources deployed in each business unit mean that activity is closely aligned to business requirements. However, because resources have only a dotted reporting line into the central analytics team, there is a chance that embedded resources go native and veer away from the central strategy. For some this is pragmatic management, for others, it is a lack of focus.
The Smoothie
Smoothies are a blend of ingredients into one drink.
'Smoothie' data teams are virtual. Data knowledge and experience is secreted into the core business. When the model works well, the business unit data leader is part of the business management team and helps the business to take data-led decisions.
The smoothie model is how many genuinely data-driven businesses organise themselves, and certainly smaller ones. To work at scale, this model requires the greatest level of data maturity; its lack of central leadership means that business units resistant to data-driven approaches are most easily able to avoid data initiatives or cultural change. There are both advantages and risks from a lack of central control, for example, duplicated overheads or mistakes repeated across the organisation. However, the lack of (real or perceived) overhead means that this model is also useful for businesses taking their first steps towards a data-driven culture before more formal organisational structures are implemented.
No one model is better than the other two, although some lend themselves more naturally to certain market segments or organisational archetypes. It is critical for insurers to make a conscious choice about which model to adopt, and to review this decision regularly as their capabilities mature.
Are you a burger, jam doughnut, or a smoothie? Oxbow Partners can help you organise your data team to maximise value from this critical capability.