Future at Lloyd's: Five ways to win
March 17, 2021
In November 2020 Lloyd's published Blueprint Two, the latest instalment in the Lloyd's market transformation programme: Future at Lloyd's. Read our summary and analysis of Blueprint One, as well as our summary and analysis of Blueprint Two.
A key part of Future at Lloyd's is digitisation of the market, believed to be critical to making Lloyd's both easier and cheaper to do business with. In this blog we look at how digitisation will develop and identify five areas Managing Agents should explore to benefit from market-wide digitisation. 
The calm before the storm
Lloyd's has traditionally been "people and paper" powered. This is largely the result of the marketplace's role & ethos as insurer of risks that individual carriers would simply not take on. Risks underwritten are often large and heterogenous in contrast to say a personal lines insurer where risks are simpler and less numerous, e.g. motor and home. This complexity is largely what has made it difficult to simply "digitise" the market overnight.
However, over the last couple of years, spurred on by perceptions that Lloyd's is an expensive market to trade with and accelerated by COVID-19, the market has pushed hard to move with the times and become digital. Brit launched Ki – a digital algorithmic follow-only syndicate – in May 2020, and more recently Beazley launched a "Digital" unit focused entirely on digital distribution.  
Whilst historically progress has been slow, we see Lloyd's and its members as well placed to accelerate considerably over the next five years. We predict that over 75% of risks being placed at Lloyd's will be digitally enabled (beyond purely digital "bind") by 2026. This assumes that lead / follow splits embed, that technology matures and is "proven" (e.g. PPL updates deliver on promised pre-bind functionality), and that there is broker demand for digital placement.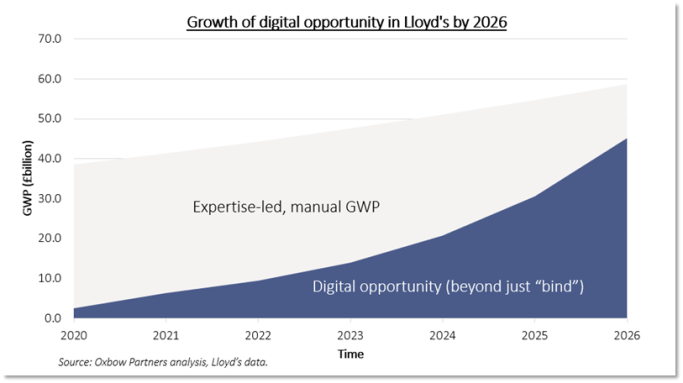 We believe the biggest digital opportunity will be with follow business which is most susceptible to rules-based underwriting. This is followed by MGA/DUA and lead business respectively. Though lead business will remain expertise-led, we believe a significant proportion of it will be digitally enabled, e.g. bionic underwriting by 2026. Look out for a future blog on this. 
A window of opportunity
As Blueprint Two starts to gain traction, we believe that Managing Agents have a short window to capture the digital opportunity. This window will last for the next 1-2 years whilst FaL and digital initiatives embed and new digital models are "proven". By 2023 we believe that Managing Agents who haven't prepared will start to be left behind. To avoid this, Managing Agents can focus on five areas.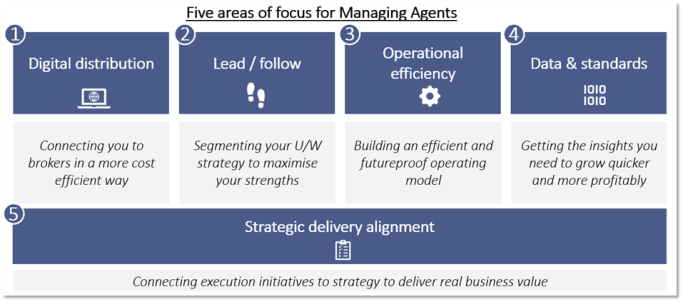 1. Portals and platforms are coming: Digital distribution
Digital distribution has become a hot topic thanks to the collective impact of COVID-19, Lloyd's e-trading mandates and PPL development. In fact £28bn or around 80% of GWP is placed electronically today (this will increase to 90% by Q2 according to the latest Lloyd's mandate). These stats hide a patchier reality though. For much of this business it is only really the "bind" that is digital; pre-and post-bind processes remain manual and in reality digital distribution is currently more phone calls and emails than portals and platforms.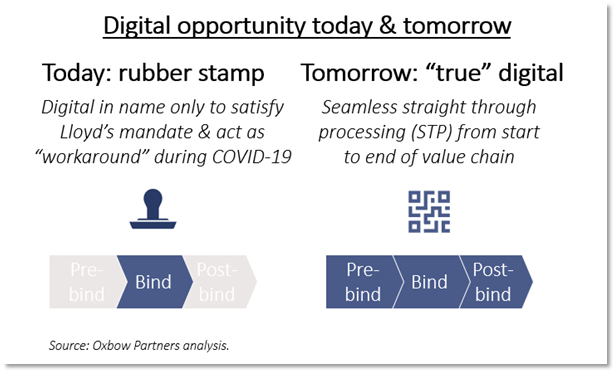 That said, you've got to start somewhere and Lloyd's is a broad and complex market. We suspect that as digital distribution matures, the direction of travel will be from "rubber stamp" – digital in name only – to "true" digital – seamless STP from start to finish. 
The challenge for Managing Agents is that digital distribution is heterogenous and going from "rubber stamp" to "true" digital is not straightforward. Within the "universe of digital distribution", there are several factors for Managing Agents to contend with.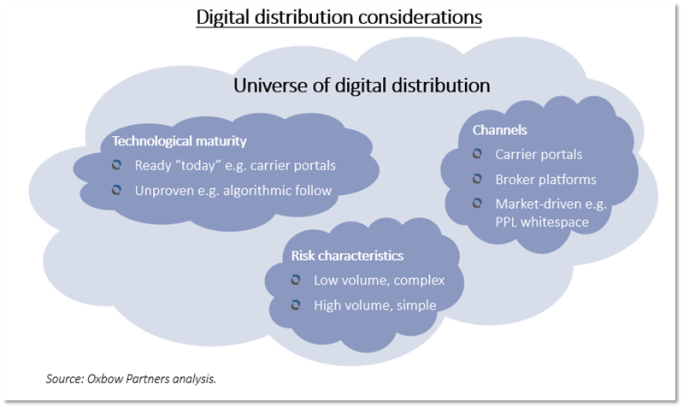 Digital distribution strategies must take into account the impact of different risk types (simple vs. complex risks), distribution technologies (bind-only vs. automated risk selection), and channel segments (carrier vs. broker vs. market) in shaping both strategies and operating models.  
Next step for Managing Agents: create your segmented digital distribution strategy. 
2. Follow the leader (properly): Lead / Follow strategy
We noted in a previous blog that Lead / Follow – a major part of Blueprint One – was noticeably absent in Blueprint Two. Despite this omission, work has continued behind the scenes at Lloyd's and follow-only syndicates Ki and Nephila have "gone live".  
Historically, Managing Agents have largely managed lead and follow business in the same ways. In practice, this means follow business, which should be low–touch and portfolio-based, is being treated in the same way as high-touch risk-by-risk lead business and therefore inflating operational costs. We believe there are fundamental differences in Lead & Follow business across the value chain: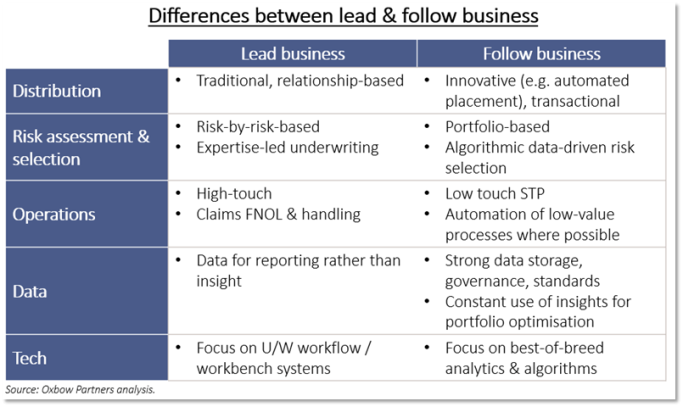 To drive down operational costs, we strongly believe that Managing Agents must more robustly segment their operations and make choices on where they plan to truly lead and where to follow. Separately, they need to reconsider operating models, redesign processes, and reshape culture around what it means operationally to "lead" vs. "follow". 
We expect businesses making early lead / follow distinctions to have teething problems. For example Ki – Brit's follow-only algorithmic syndicate – currently "follows itself" and several nominated leaders for much of its business and will likely face challenges as it moves away from nominated leaders to following others. On the positive side, we have seen with broker portals in UK SME that if Managing Agents provide seamless access to business, brokers will make the effort to use it.
Next step for Managing Agents: define lead and follow classes of business and set out follow-only strategy. 
3. 

Get your house in order: 

Operational efficiency

 
Reducing the cost of doing business within Lloyd's is an important part of the Future at Lloyd's, and Blueprint Two talks of an £800 million marketplace opex saving. This equates to a 3pp reduction in expense ratio against 2019 figures. Cost pressures precipitated by COVID-19, severe losses, and a looming soft market cycle have put efficiency top of mind for Managing Agents too. We believe there are several levers Managing Agents can pull to drive operational efficiency – broadly dependent on complexity and value of operational processes.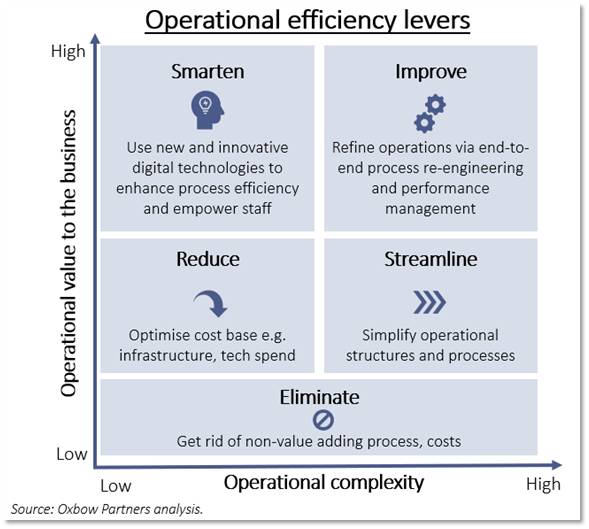 Whilst a top priority for many Managing Agents is taking advantage of the favourable rating environment, we believe it is prudent to take advantage of the cost reduction opportunities emerging across the value chain as well as to get your house in order to anticipate a return to a soft market. 
Next step for Managing Agents: reconsider operating model for maximum efficiency. 
4. 

Accept that data is n

o longer a buzzword

: 

Data

& standards
Blueprint Two introduced several data initiatives. A "Core Data Record" (CDR) will capture placement data post-bind to provide a single point of reference for subsequent processes such as payments, claims and renewals. A "Digital Spine" will underpin the marketplace and store data to hold an irrefutable record of a contact across its lifecycle. Creating data standards – as simple as deciding the way a year is recorded (with two digits or four) – is also a market priority. 
This is an important step to transforming Lloyd's into a data-first marketplace. However, technology and data infrastructure should not be seen as a silver bullet. We believe maximising the potential of data requires cultural change from the top. In the past Managing Agents have had Data & Analytics as one element of their overall corporate strategy, but increasingly D&A is being given a dedicated strategy in itself.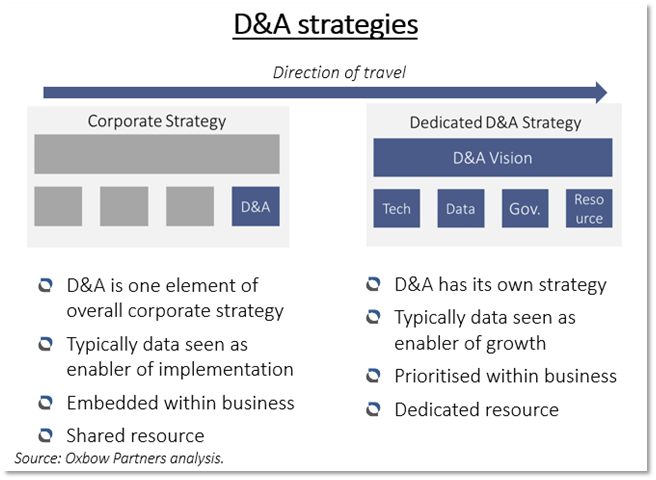 As well as clarifying their data strategies, Managing Agents will need to make explicit choices about their D&A organisational model. Centralised D&A teams provide capability – often basic, e.g. data entry extraction, and MI – across the business and typically sit close to IT. Hybrid D&A teams comprise a mixture of centralised and distributed resource with data science and analytical skills. Decentralised D&A teams embed resource into underwriting and pricing teams.  
Next step for Managing Agents: define your data strategy and make conscious choices on D&A organisational model. Engage with Lloyd's to help shape what will become marketplace standards. 
5.

Deliver value not projects

: 

Strategic delivery alignment
The magnitude of change within Lloyd's and the London Market cannot be understated. Advances in technology and customer behaviour, combined with a "once in 100 year" event, has presented Managing Agents with choices to make across the value chain. We believe it is critical to ensure choices are connected to an overall strategy focused on delivering real business outcomes. One way to do this is through a "Strategy Realisation Office" or "SRO". We believe SROs have four capabilities: portfolio optimisation, portfolio execution, portfolio design, and strategy alignment.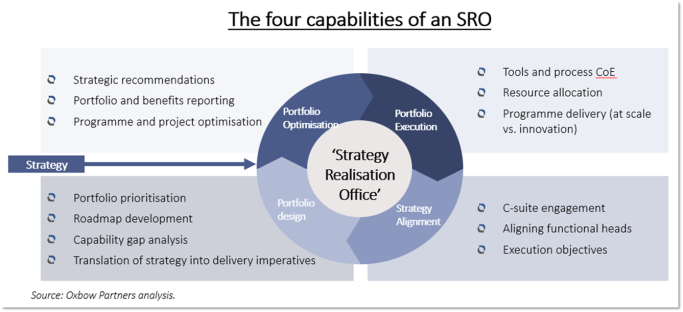 Unlike traditional PMO, SROs provide strategic leadership and accountability for delivering business benefits. They are accountable for delivering business value, not just programmes, they have a mandate to identify opportunities for improvement, rather than being reactive, and they are measured on value realisation not (just) project delivery. 
Next step for Managing Agents: consider SRO options to align execution to strategy and outcomes. 
Conclusion – capturing the window
Managing Agents have a choice. They can move with the times and embrace the digital direction of Lloyd's or ignore it and risk falling behind in the near future. Lloyd's' transformation agenda and initiatives are not only here to stay – they will irrevocably change the marketplace and Managing Agents need to make sure they are aligned to cope with and profit from this change. 
At Oxbow Partners we help clients in the Lloyd's and London Market with strategy & operating models across all five areas. We also help clients identify how to respond to the Future at Lloyd's programme. If you're keen to clarify how you should respond to FaL then please do get in touch.